The COVID-19 pandemic has caused countless difficulties for colleges and universities across the globe. One of the biggest needs is how to effectively transition to and teach in an online format.
We have identified a handful of our current programs that we consider "COVID-19 Resources." These programs, as denoted by the image on the right, were selected because they will help you understand how to teach remotely effectively.
All are led by higher education experts with decades of experience and direct insights to give you. These "COVID-19 Resource" programs focus on a wide array of necessary topics like online course design, online teaching strategies, online classroom community, online assessments, and more.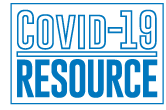 What's more is that we built in an automatic 30% discount
per each applicable program. Until September 30, 2020,
you can take advantage of a 30% discount per program. No coupon code required!
If you are looking to improve how you teach online, look no further than these resources! You don't have to rely on trial and error any longer. Get the guidance you need to ensure that you and your students can have the most seamless transition possible.
Remember: Until September 30, 2020, you can take advantage of a 30% discount per each COVID-19 Resource Program. No coupon code required!


We hope you find these offerings as dependable foundations in online teaching and learning to help you teach in the most effective and impactful ways possible.
Stay safe and healthy! Wishing you all the best!