Principles of Effective College Teaching
Principles of Effective College Teaching
This Magna Online Course will help you master the delivery of your subject matter through providing in-depth instruction on the myriad responsibilities of a college teacher.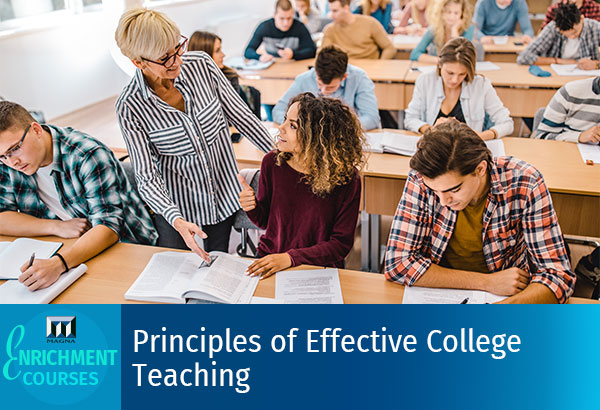 Group Enrollment Pricing

1 person

$199

2–9 people

$139 per person

10-49 people

$109 per person

50–99 people

$89 per person
Group Enrollment discounts are applied in the cart.
---
Winter Enrichment Session
December 11, 2023 – January 19, 2024
---
New faculty enter the classroom as experts in their field, but not necessarily as experts in teaching. Before they begin a new semester or year of teaching, new faculty members need quality training that introduces or enhances their understanding of key pedagogical principles and concepts.
Presented by James M. Lang, PhD, an experienced professor and director of the Center for Teaching Excellence at Assumption College, Principles of Effective College Teaching is a 10-hour course that will give new faculty, graduate students, teaching assistants, and other instructors the knowledge and confidence they need to be successful in the classroom from the very first day of the semester.
After completing Principles of Effective College Teaching, educators will:
Know how to design courses and construct meaningful and effective learning objectives
Be able to identify opportunities for incorporating instructional technology, eliciting peer feedback, and adopting active learning strategies in the classroom
Recognize common warning signs that can lead to classroom problems— before they get out of hand
Understand their role in motivating and engaging students, promoting deep learning, and guiding student development
Have the confidence and skills to control the classroom
Know where and how to seek information and resources when they run into challenges
You can complete this course at your own pace and access it from virtually any device. It's convenient professional development that's equally valuable for individual learners and institutional learning communities.
The course comes with a variety of supplemental materials to support the content, including full transcripts, links to online resources, suggested readings, and handouts. You'll also find a final check on learning that leads to a certificate of completion.
How It Works:
Select your desired session date.
Prior to the start of the course, participants will receive an email with information on accessing the online course.
Access to the course runs according to your selected session date.
Participants can work through the course at their own pace. Participants can also review information in a previous unit as well as read supplemental materials and watch the accompanying videos as many times as they like within their selected session date.
Upon completion of the course, participants will take an assessment to gauge learning.
At the end of the course, participants will receive their choice of a Digital Badge or a Certificate of Completion.
What's Included:
Video programs
A final assessment
Transcripts of all video programs
Program slides
Supplemental readings and activities
Certificate of Completion for the course
Group Enrollment:
Discount pricing is available for multiple seats purchased at the same time.
For 10 or more seats, please contact Magna Sales at sales@magnapubs.com or call 800-433-0499 ext. 183 to receive a customized quote.
Winter Enrichment Product Code: PO23XA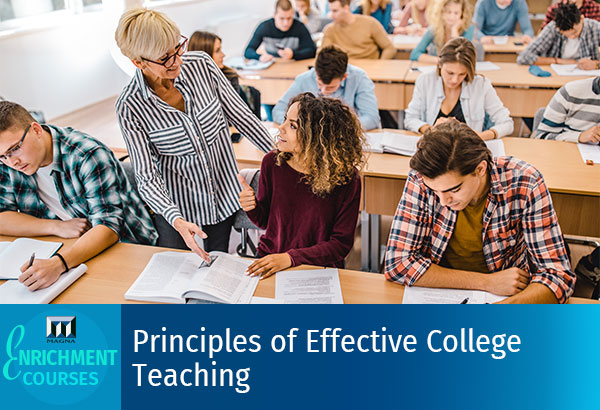 Group Enrollment Pricing

1 person

$199

2-9 people

$139 per person

10-49 people

$109 per person

50-99 people

$89 per person
Group Enrollment discounts are applied in the cart.
If you are not completely satisfied with your purchase, you may cancel the order within 30 days of purchase and receive a full refund.
Group Subscription Options
Campus Safety, Compliance, Department and Program Evaluation and Assessment, Digital Library, Equity, Inclusion, and Diversity, Faculty Support, Group Subscription, Institutional Assessment, Institutional Culture, Leadership, Leadership, Online Program Evaluation and Assessment, Online Program Strategy, Personal and Professional Development for Academic Leaders, Regulatory Compliance, Risk Management, Strategic Planning, Student Support, Supporting Online Faculty, Title IX Clery and VAWA

From:

$

1,297.00

for 1 year

Assessment, Grading, and Feedback, Blended and Flipped Learning, Course Delivery and Instruction, Course Design and Preparation, Department and Program Evaluation and Assessment, Digital Library, Faculty, Faculty Support, Group Subscription, Institutional Culture, Leadership, Legal Concerns, Monday Morning Mentor, Online Assessment, Grading, and Feedback, Online Course Delivery and Instruction, Online Course Design and Preparation, Online Program Evaluation and Assessment, Online Program Strategy, Personal and Professional Development for Academic Leaders, Specific Student Populations, Student Engagement, Supporting Online Faculty, Teaching Strategies

$

999.00