Introduction to Legal Issues for Academic Leaders
While many educators who step into leadership roles are likely familiar with Title IX, ADA policies, and intellectual property laws, overseeing legal issues on the departmental or campus-wide level is quite different from understanding them in the context of the teaching classroom. As the consequences of noncompliance heighten, academic leaders face increased pressure to know the ins and outs of key legal issues and leverage a variety of measures that mitigate the risk of costly and…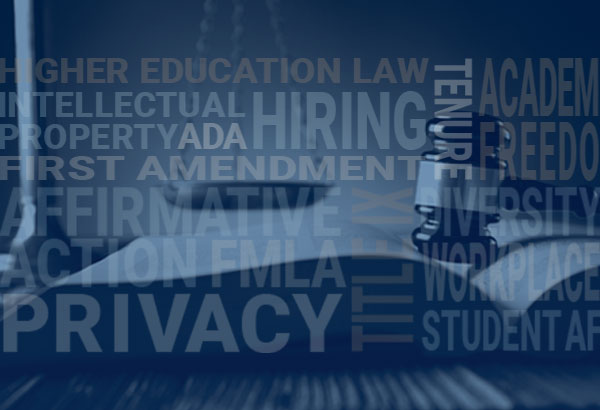 While many educators who step into leadership roles are likely familiar with Title IX, ADA policies, and intellectual property laws, overseeing legal issues on the departmental or campus-wide level is quite different from understanding them in the context of the teaching classroom.
As the consequences of noncompliance heighten, academic leaders face increased pressure to know the ins and outs of key legal issues and leverage a variety of measures that mitigate the risk of costly and time-consuming litigation and legal disputes.
Make sure youre doing what you can to avoid these conflicts!
Introduction to Legal Issues for Academic Leaders is a three-part expert-delivered course. This introductory course gives newly appointed deans and department chairs an overview of 10 critical higher education law topics to make new leaders familiar with difficult issues that they will likely face.
Delivered in module form, this asynchronous course is designed for convenient learning. It can be completed in about 6 hours and can be taken at any pace, and accessed from virtually any device. A wealth of supplemental materials accompany the presentation: handouts, readings, links to online resources, and full transcripts. Assess your learning with a final exam.
Topics Covered:
Part 1
A Brief Discussion of the History of Higher Education Law Learn the general history of the law as applied to academic institutions; why courts were reluctant to involve themselves in the decision-making of universities, especially when that came to institutional decisions about hiring, tenure, and student enrollment; and what's changed in modern times.
Negligent Hiring and Legal Claims in the Hiring Process: The Appointment Letter Understand the three laws crucial to anyone involved in the academic hiring process: Title VII, which prohibits discrimination in employment on the basis of race, color, national origin, sex, and religion; the Age Discrimination in Employment Act which prohibits discrimination against people who are 40 or older; and the Americans with Disabilities Act, which protects individuals who are actually disabled, have a history of being disabled, and/or are regarded as disabled.
Title VII and the ADEA This module provides more detail about Title VII and the Age Discrimination in Employment Act beyond their relevance to hiring.
Part 2
Americans with Disabilities Act & Family Medical Leave Act Overview Join your instructor in a lively overview of two of his favorite laws: the Americans with Disabilities Act and the Family Medical Leave Act. Learn the foundations of each law to help you identify issues on your campus and understand the complexities that exist within these laws depending on the circumstances.
Common Legal Issues in the Tenure Review and Revocation Process This module focuses on the common legal issues in the tenure review and revocation process. It brings together information already introduced but now emphases the context of denying or revoking tenure.
Affirmative Action and Diversity Learn about affirmative action and diversity in the higher education context, including a review of Title VI, which is a prohibition of the use of race, color, and national origin in any program which receives federal financial assistance; Section 1981, which prohibits discrimination on the basis for race in terms of contracting; Title VII, a broad prohibition from discrimination in employment on the basis of race and other protected categories; and the 14th Amendment to the Constitution, which prohibits the use of race in discriminating by state actors.
Part 3
Academic Freedom and Other Constitutional Issues Unique to Higher Education This module is about constitutional issues unique to higher education and specifically, public universities. It includes a discussion of academic freedom as it relates faculty, students, and outside speakers invited to campus.
The Basics of Intellectual Property Introduction to the basics of intellectual property law in context of higher education, including copyright, patents, trademarks, and trade secrets.
An Introduction to Student Affairs Law This discussion of FERPA covers three main areas: the right for students to control disclosure of their education records and the institution's responsibility to protect the privacy of education records; the right for students to inspect and review their own education records; and the right for students to seek amendment of their education records.
Title IX This module gives a more in-depth discussion of Title IX and the emphasis in compliance to this law that universities have faced over the last 10 years.
WHO WILL BENEFIT FROM THIS COURSE:
Newly appointed deans and department chairs
Human resource professionals
Faculty development directors
Enrollment:
Reserve your seat(s) today. Discount pricing is for multiple seats purchased at the same time:
| | |
| --- | --- |
| # of people | Cost |
| 1 | $299 |
| 2-4 | $269 per person |
| 5-9 | $189 per person |
| 10-19 | $149 per person |
| 20-39 | $129 per person |
For 40 or more people, please contact Magna Sales at sales@magnapubs.com or call 800-433-0499 ext. 183.
The course enrollment will expire one year from date of purchase.
HOW TO ORDER:
Order online-Use order button on this page
Use the PDF order form and return it by mail or email
Mail to: Magna Publications, 2718 Dryden Dr., Madison, WI 53704
E-mail: Send your registration information to: support@magnapubs.com
Product Code: JO19AD