Critical Thinking Skills 4 Pack
Learn to design and develop a discipline-based course with a critical-thinking focus. Examine the critical-thinking landscape, review the best scholarship, and apply these principles to your teaching.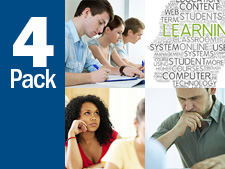 Overview
Its all about that moment when a student not only masters the textbook but also learns to think beyond it.
Critical thinking skills are important components of learning in nearly every discipline; college students expect to hone these skills so they will be ready for the workforce or graduate school. Yet instructors often find it difficult to figure out how to teach critical thinking; they might think they are teaching it when in reality, they are not.
Fortunately, the new Critical Thinking 4 Pack disseminates all of this information and presents you with concise video programs that provide immediate strategies and exercises you can use to boost critical thinking in your courses.
The following 20-Minute Mentors are included in this pack:
Topics Covered
The presenter has garnered years of experience and research that in this series are distilled down to evidence-based strategies you can immediately implement.
After viewing these programs, you will be able to:
Explain what critical thinking is (and is not)
Identify suitable course content for teaching critical thinking
Write assessable critical thinking student learning outcomes that are compatible with your discipline
Integrate critical thinking into the design of your new or existing courses
Select and adapt strategies for teaching your students how to develop their critical thinking skills
Create effective, discipline-related content, assignments, and activities related to critical thinking
Identify and avoid the mistakes commonly made by instructors who attempt to teach critical thinking
Recognize opportunities for critical thinking assignments
Distinguish the critical thinking skills that objective items can assess from those that require student-constructed responses
Design prompts that elicit student-constructed responses that require critical thinking and that ensure a basis for assessing students cognitive skills
Develop rubrics for assessing those skills
Reward your students for thinking critically
The Critical Thinking 4 Pack will help you design and develop a discipline-based course with a critical-thinking focus. Your presenter carefully examines the critical-thinking landscape, reviews the best scholarship, and shows you how to apply it to your teaching.
Purchase
Educators need to be clear about defining critical thinking and purposeful in designing the activities and assignments that will be used to promote its development. This series of programs will bring the concept of critical thinking into focus and provide actionable steps to help you design, promote, and assess it. Purchase yours' today!
Individually, these programs sell for $99 each. By purchasing the 4-pack, you will save nearly $100.
Product Code: PM16BA