Engaging Students Online 3 Pack
Getting students to interact with the course material and their fellow students is particularly challenging in an online classroom setting. These three programs provide solutions for engaging students as they pursue effective group and service learning projects in the online classroom.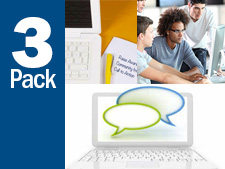 Ignite Student Engagement in Your Online Classroom
Grabbing and keeping the attention of students in an online classroom is one of the hardest tasks for teachers today. The distance between educator and pupil demands fresh ways to keep students engaged.
Leading students in an online classroom to interact more fully with the material, outside projects, and their fellow students takes innovative changes in teaching that are discussed in the Engaging Students Online 3 Pack.
The video programs included are:
Learning Goals
This illuminating, fast-paced series uncovers strategies and real-world examples for overcoming the obstacles of remote distance learning and engaging students consistently.
The Engaging Students Online 3 Pack reveals what works and what doesnt in the online classroom for driving student achievement.
After viewing these three timely sessions, youll be able to:
Devise collaborative projects that meet course objectives and independent online study
Structure and supervise online group work efficiently and flexibly
Generate increased engagement and learning among students
Leverage recent Web 2.0 tools particularly applicable for online collaborations
Explain key features of a service learning model for online courses
Guide students to settle on a course-related topic for their activity
Define distinct calls to action that students can execute
Show students how to find and follow up with participants in their project
Make discussion boards livelier and more instructive
Determine the engagement potential of a learning management system
Learn strategic ways for students to take greater initiative in dealing with coursework
Create a customized plan for engaging students in a stimulating discussion
Implementing even a few of these ideas can make your online teaching experience more rewarding and help your students maximize their potential.
Topics Covered
This series of three Magna 20-Minute Mentors shows how to engage with online students in meaningful ways, make online group projects more effective, and set up an online service learning project that fits the nontraditional schedules of many online students.
These presentations hand you realistic tools and techniques to support student learning, engagement, and independence.
Applying these methods will demonstrate your own involvement with your students and inspire them to put what theyve learned into practice. They will come away with a better rounded learning experience that extends beyond the online classroom as they make their way in their own careers.
Takeaways
Reaching across the online divide to make the learning experience deep and rewarding for students in a virtual classroom is the basis for Engaging Students Online 3 Pack.
A variety of supplemental resources and materials comes with the series and gives you an even fuller mastery of the subject.
Audience
Each 20-minute video is designed for educators with busy schedules who want help with their own continuing education at their own pace. These video programs are easy to view at your convenience while giving you the most pertinent ideas delivered by informed, animated presenters.
Purchase
Nurture student achievement when you know how to make your virtual classroom a thriving educational experience! Place your order today.
Individually, these programs sell for $99 each. By purchasing the 3-pack, you will save nearly $50.
Product Code: QM16DA