Straightforward advice about how to make wise grading policies that can enhance the achievement of your students as well as position yourself as a trustworthy teacher.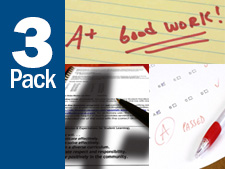 Do Your Grading Policies Receive a Passing Grade?
Coming up with reasonable, objective grading policies is a lot harder than it sounds.
The higher education aspirations and career goals of students are implicitly tied to their grades. So educators bear a grave responsibility for coming up with and enforcing sensible policies that both they and their students believe in and adhere to. Discussing these issues and showing realistic solutions that educators can rely on is at the heart of Grading Policies 3 Pack.
The video programs included are:
Benefits
In these programs, the presenter will share policy decisions you can make to promote a more meaningful learning experience for your students.
This eye-opening, dynamic series offers straightforward advice about how to make wise grading policies that can enhance the achievement of your students as well as position yourself as a trustworthy teacher.
Understanding the critical issues underlying grading policies and walking away with real-world solutions could be the most important instruction you receive this year.
Learning Goals
View these three videos, and youll be able to:
Assess your grading practices and policies for hidden bias
Determine whether you are assessing student performance accurately
Identify the potential ethical pitfalls in different grading systems
Weigh the pluses and minuses of extra-credit assignments
Examine the benefits of dropping low grades and other types of error forgiveness
See the motivational value of increasing student choice
Discuss the pitfalls and opportunities in grading attendance and participation
Articulate the pros and cons of different grading methods
Render policy decisions that are aligned with your objectives for student learning
Make feedback more meaningful, more constructive, and more reflective of student performance
Using the inherent power of grading policies to drive student achievement in an ethical, accurate, and objective way is the goal of Grading Policies 3 Pack.
Topics Covered
Assessing the fairness and practicality of grading policies, their underlying biases, and how they can help or hinder student achievement are among the macro issues examined in this video series of three Magna 20-Minute Mentors.
The key solutions raised in this presentation will help you gain the trust of your students and motivate them to excel in your classes. Youll come away with a sharper awareness of how to manage issues surrounding grading with more confidence and mastery.
The videos are only 20 minutes each in length-perfect for todays busy educators who want to get the salient points in a handy, time-efficient format.
The revelations found in the Grading Policies 3 Pack arm you with grading policies that are instrumental in getting the best from your students today.
Purchase
Discover how different grading policies can spur student achievement and help you gain respect as a committed, caring educator! Purchase your program pack today.
Individually, these programs sell for $99 each. By purchasing the 3-pack, you will save nearly $50.
Product Code: PM16DA