New Online Instructors 2 Pack
Learn how to develop your online teaching persona and keep students engaged by making a vibrant instructor presence part of your course design. These programs will help you increase student engagement, satisfaction, and retention.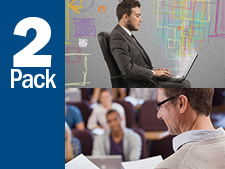 Developing instructor presence for new online faculty
They say absence makes the heart grow fonder, but thats not always true, especially in online courses.
It may seem counterintuitive, but in these days of asynchronous classes and long-distance education, instructor presence is more important than ever. But how do you strengthen your connection with students when you might not even be in the same time zone? Find out in the New Online Instructors 2 Pack. It includes the following presentations:
Benefits
You might not realize it, but your students are checking every detail of your online courses, from the fonts and visual images on the course website to your policy on late assignments, to determine what kind of person you are and the sort of instructor youll be.
These presentations will show you how to jumpstart your online classes and keep students engaged by making a vibrant teaching presence part of your course design. Youll see how your presence can shape students behavior and enhance their educational experience. Heres some of what youll learn:
Three key steps to establishing a positive presence in an online class
Multiple methods for sharing your persona throughout the course
Techniques for analyzing and improving your level of instructor presence
Guidelines for using feedback to strengthen your online course community
Learning Goals
Analyze and adapt your online course design to enhance faculty presence
Identify practical techniques and strategies to express your teaching persona throughout your course
Assess student attitudes towards teacher presence
Construct community in your online courses
Topics Covered
Just like a stand-up comic facing a tough crowd, without the face-to-face interaction of the traditional classroom, it can be tough for new online faculty to tell if theyre getting through to students, and vice versa.
Thats why its so important for online faculty to establish a vibrant online persona, even before their classes start. Letting students know from the beginning that youre there and you care helps turn your online course into a genuine learning community. The New Online Instructors 2 Pack is chock full of proven and practical tips and insights to help you engage with students.
The presenters bring their presentations to life with vivid examples of authentic student interaction. Drawing from their own extensive experience, theyll discuss the ins and outs of assembling an online profile, defining assignment schedules, and coaching students in appropriate feedback techniques. After viewing, you will be able to:
Identify your teaching persona in three steps
Develop and implement a strategy to enhance student engagement
Evaluate and improve your teaching presence
Model engaged class participation
Help your online students develop grit
Audience
The New Online Instructors 2 Pack is designed to help faculty new to online education. This unique professional development opportunity will show faculty how to establish and make the most of their teaching personas in their online classrooms.
Takeaways
After participating in these presentations, you will be walking away with supplementary materials, including checklists, questionnaires, information packets, and a bibliography, that will help you put your new knowledge to work right away.
Purchase
Discover how you can be the kind of online instructor you want to be. Order the New Online Instructors 2 Pack today to start enhancing your students online education experience!
Individually, these programs sell for $99 each. By purchasing the 2-pack, you will save nearly $50.
Product Code: QM16EA