---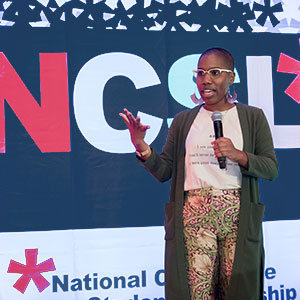 Student affairs professionals, leadership educators, leadership consultants!Here is your opportunity to propose a conference session that will offer vital leadership skills and strategies to college student leaders. Proposals will be assessed and rated on relevance, presenter experience, level of interactivity, and evidence. Presenters should be dynamic and engaging. We look for presenters that offer logical strategies and tools that can be implemented on campus. Accepted presenters receive a free conference registration. We will accept five 60-minute sessions in each of the following themes. Some sessions may repeat. You may submit unique proposals for multiple themes.
Call for proposals for 2020 is currently closed. Please check back for the 2021 conference. 

1. General Leadership: What makes a great leader? This track covers basic and advanced leadership skills for both emerging and established student leaders.

2. Cause Leadership: Help students cultivate the exceptional leadership skills required to lead cause-driven initiatives such as fighting global warming, working to reduce food deserts in their community, promoting campus civility and more.

3. Communication for Leaders: Sessions in this track give students the skills to articulate their vision, communicate in groups, and other forms of public motivational speaking. Help them develop the communication skills that are key to leadership.

4. Networking: Networking leads to meaningful connections, impactful relationships, and expanded networks. Guide students through the basics of effective networking.

5. Life Skills and Personal Development: Leadership reaches beyond the conference—and beyond the classroom. These workshops provide the leadership skills needed to prepare students for the world that awaits after graduation.

6. The Path to Professionalism: Give students a glimpse of how leadership skills transfer from college to industry by sharing your success story. Inspire the next generation and help them achieve success beyond the classroom.

7. Self-Care and Wellness: Mental and physical health are key components of success. Teach techniques for making self-care and wellness a priority despite a busy, pressure-filled schedule.

8. Advisor Sessions: These evidence-based professional development sessions are just for student advisors. We are interested in all aspects of SA professional development, including career management, productivity, health and wellness, networking, leading students, and more.
---