Registration Packages
If we ever needed leaders to step forward on our campuses, now is the time. With a pandemic, racial injustice protests, and an immediate shift to remote online learning—along with a host of other issues—higher education needs effective leadership. We invite you to join us for the 2020 Leadership in Higher Education Virtual Conference. Your registration includes:
Q&A for each session
Closed captioning
Downloadable conference handouts
Poster sessions
Conference app with handouts, presenter profiles, networking, and sponsors
Access begins Thursday October 1 and runs through December 31, 2020.
Special Offer for Teams of 5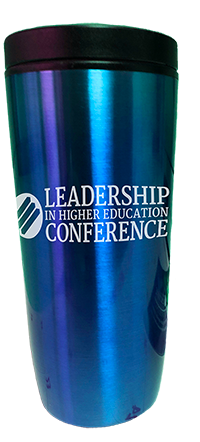 Do you have a group of 5 leaders that want to attend the Leadership in Higher Education Virtual Conference? Sign up for a Leadership Team Registration and receive the following for each registrant:
Leadership in Higher Education Virtual Conference registration
Copy of the latest book, Leading through Crisis, Conflict, and Change in Higher Education*
Conference notebook and pen*
Leadership in Higher Education Conference travel mug*
* Included with orders received by Monday, August 31. Offer available for U.S. and Canadian addresses only.  
Have a group greater than 5? Register now and pay just $350 each! For groups of 50 or more, email a spreadsheet with the registrant information (name, job title, institution, address, email address, phone number) to support@magnapubs.com and we'll enter your registration for you!
2020 Leadership in Higher Education Virtual Conference
1 Person
$499
2–4 People
$399 each
Leadership Team (5+)
$350 each
 Have Questions? Call Magna Customer Service at 800-433-0499 (8:00 am– 5:00 pm Central).
How to Register
Register online using a credit card, or select "Bill Me" and we'll send you an invoice.
Print the registration form (.pdf) and return it by mail or email

Mail to: Magna Publications, 2718 Dryden Dr., Madison, WI 53704
E-mail: Send your registration information to: support@magnapubs.com
***Please Note: To qualify for multiple registration discounts, all registrations from an organization must be submitted together. A registration form is required from each individual attending. If you wish to make a reservation now, but don't know which individuals will be attending, write "to be named" in the name fields of the form and then notify us once your attendee list is finalized.
Have Questions? Call Magna Customer Service at 800-433-0499 (8:00 am– 5:00 pm Central)
---
International Attendees: Letter of Invitation
If you do not live in the United States and wish to attend one of our conferences, you may need to secure a visitor visa. Advance travel planning and early visa application are important, since applications are subject to a greater degree of scrutiny than in the past. If you need a letter of invitation, you can download it here. Please Note: we do not provide personalized letters of invitation. Attendees who are citizens of Visa Waiver Program participating countries generally do not need a letter of invitation. Please visit the U.S. Department of State's website for complete information on how to apply for a visitor visa.
---
Cancellation Policy:
Cancellations made after September 18, 2020 will result in full registration fee. Individuals who sign up for the conference, but do not attend will be charged the full registration price. Substitutions or name changes can be made at any time. All cancellations must be received in writing. Cancellation requests can be sent by email to support@magnapubs.com or by fax to 608-246-3597. Please include "Cancellation of 2020 Leadership in Higher Education Virtual Conference Registration" in the subject line.