How Can Disruptive Innovation Impact STEM Education?
For faculty and teachers, especially in STEM fields, who are looking to shift their teaching mindset from sustaining technologies to disruptive technologies, this 20-Minute Mentor will provide you with expert-guidance on how teaching disruptive technology in a STEM course can help students think more critically.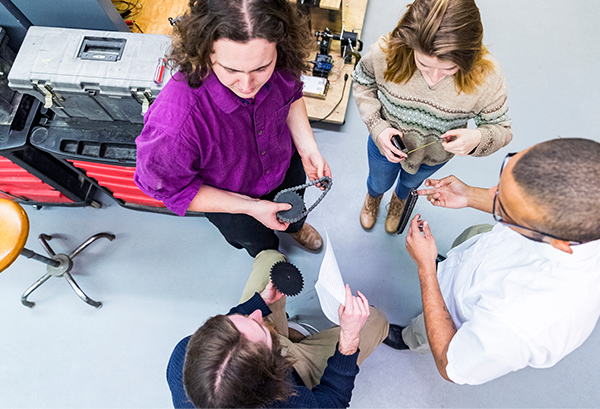 How Can Disruptive Innovation Impact STEM Education?
Much of STEM education is focused on sustaining technologies, which get more complex and expensive over time. However, many customers are actually best served by solutions that are simpler and cheaper, opening up opportunities for disruptive innovations.
This Magna 20-Minute Mentor discusses concepts and examples related to disruptive innovation, including how they can be used to help train students to become more customer-focused. Our expert presenter will provide some basic background information, examples, and an activity to help viewers learn and apply the concepts to their own teaching.
Learning Goals
After viewing this Magna 20-Minute Mentor, participants will be able to:
Describe the difference between disruptive and sustaining innovations
Identify different customer segments, including under-served, over-served, and not-served
Recognize historical examples of disruptive innovation
Complete an activity intended to explore a particular industry, technology, or product for potential disruptive innovations, which can also be used to teach disruptive innovation to students
Topics Covered
Disruptive vs. sustaining innovations
Customer types
Examples of disruptive innovations
How to use disruptive innovation with STEM students
Audience
This program will benefit:
Instructors and other faculty members, particularly in a STEM field (such as engineering)
Professors
Instructors
Lecturers
Deans
Product Code: PM20CA
Campus Access License
With the purchase of the optional Campus Access License, registrants are granted a license to download the program contents to a password-protected network, server, or website for additional staff use. You will receive information on downloading the contents of the program within 3-5 business days after payment has been received by Magna.
Group Subscription Options
Assessment, Grading, and Feedback, Blended and Flipped Learning, Course Delivery and Instruction, Course Design and Preparation, Department and Program Evaluation and Assessment, Digital Library, Faculty, Faculty Support, Group Subscription, Institutional Culture, Leadership, Legal Concerns, Monday Morning Mentor, Online Assessment, Grading, and Feedback, Online Course Delivery and Instruction, Online Course Design and Preparation, Online Program Evaluation and Assessment, Online Program Strategy, Personal and Professional Development for Academic Leaders, Specific Student Populations, Student Engagement, Supporting Online Faculty, Teaching Strategies

$

999.00

Campus Safety, Compliance, Department and Program Evaluation and Assessment, Digital Library, Equity, Inclusion, and Diversity, Faculty Support, Group Subscription, Institutional Assessment, Institutional Culture, Leadership, Leadership, Online Program Evaluation and Assessment, Online Program Strategy, Personal and Professional Development for Academic Leaders, Regulatory Compliance, Risk Management, Strategic Planning, Student Support, Supporting Online Faculty, Title IX Clery and VAWA

From:

$

1,297.00

for 1 year