Academic Leader covers the trends, challenges, and best practices today's academic decision-makers need to protect and enhance their institution's mission while meeting the evolving demands from internal and external stakeholders.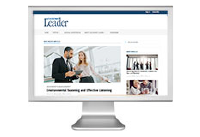 Lead Your School with More Confidence and Purpose
Higher education is changing. For some, it's not changing fast enough. For others, it's changing so fast it's hard to keep up. Wherever you stand along the change continuum, Academic Leader is here to provide expert guidance.
Academic Leader covers the trends, challenges, and best practices of today's academic decision-makers. By becoming a subscriber, you will gain access to the latest thinking in academic leadership and learn how peers at other institutions are solving problems, managing change, and setting direction.
While the burden of expectations is especially heavy on those in charge, Academic Leader will ensure you are fully prepared to make informed, practical decisions on almost every issue that comes across your desk. Become a member today!



Subscription Benefits
Articles that keep you in the know with everything today's academic leaders need to recognize and comprehend

Case studies exploring strategies taken at a featured institution for you to model

Q&As with notable academic leaders around the world

Full access to a searchable library of archived articles and resources loaded with sage advice that will make your institution stand out
Who Should Read Academic Leader?
Academic Leader appeals to college and university leaders of almost every level, with resources designed specifically to help you do your job more effectively. This subscription is ideal for:
Academic deans
Department chairs and heads
Provosts
Academic vice presidents
Program directors
Professionals in any academic leadership role
"Straightforward and informative. I like the perspectives of multiple viewpoints (faculty and administration)."
Cathleen H. Cogdill, PhD
Associate Dean, Math, Science, Technologies & Business, Northern Virginia Community College
"Informational topics that keep me in the loop."
Margaret Bourcier
Manager, eLearning, University and Workplace Partnerships, Mott Community College
Learning Topics
As a subscriber of Academic Leader, you will receive new content twice monthly on the topics that matter most to you, such as:
Course and Program Evaluation and Assessment
Budgets and Finance
Curriculum Planning and Development
Faculty Development
Faculty Recruitment and Retention
Institutional Culture
Leadership and Management
Promotion, Tenure, and Evaluation
Risk Management and Compliance
Student Issues
Academic Leader (ISSN 1938-1417) is published by Magna Publications Inc., 2718 Dryden Drive, Madison, WI 53704. SKU: DPALAA.
Sign Up for Academic Leader Email Updates!
Receive free twice monthly summaries on trends, challenges, and best practices of today's academic decision-makers. An Academic Leader subscription is required to view the full articles.
Meet Our Contributing Editors


Adrianna Kezar, PhD (Contributing Editor)
Adrianna Kezar is Dean's Professor of Leadership, Wilbur-Kieffer Professor of Higher Education, at the University of Southern California and director of the Pullias Center for Higher Education within the Rossier School of Education. Dr. Kezar is a national expert of student success, equity and diversity, the changing faculty, change, governance, and leadership in higher education. Kezar is well published with 20 books and monographs, over 100 journal articles, and over 100 book chapters and reports. Recent books include The Gig Academy (Johns Hopkins University Press, 2019), Administration for Social Justice and Equity (Routledge, 2019), The Faculty for the 21st Century: Moving to a Mission-Oriented and Learner-Centered Faculty Model (Rutgers University Press, 2016), and How Colleges Change (2nd ed.; Routledge, 2018).
Laura G. McGee, PhD (Contributing Editor)
Laura G. McGee served as head of the Department of Modern Languages at Western Kentucky University for 11 years. She provided extensive professional development to faculty, aligned learning outcomes with national standards, and updated and refining approaches to faculty evaluation. Under her leadership, the department nearly doubled the number of its languages, programs, and majors. She was also principal investigator for the Chinese Flagship. As a Fulbright Scholar, she conducted research in Potsdam, Germany, and has published on post-unification German film. In 2020, the Kentucky World Languages Association recognized her leadership in the field of world languages with its "Lifetime Achievement" Award. She now consults in higher education administration and world languages. In addition to writing on administration and on film, she conducts academic program reviews and is a team member with LifeStories Matter LLC Intercultural Training and Coaching.
Rebecca Pope-Ruark, PhD (Contributing Editor)
Rebecca Pope-Ruark is the director of the Office of Faculty Professional Development at Georgia Tech, running institute-wide programs focused on writing, mentoring, and leadership development as well as offering one-on-one coaching and consulting. She earned her PhD in rhetoric and professional communication from Iowa State University in 2007 and spent 12 years as a tenure-track and tenured faculty member at Elon University in central North Carolina before serving as the faculty teaching and learning specialist in the Center for Teaching and Learning at Tech. Rebecca is the author of two books: Agile Faculty: Practical Strategies for Managing Research, Services, and Teaching (University of Chicago Press, 2017) and Unraveling Faculty Burnout: Pathways to Reckoning and Renewal (Johns Hopkins University Press, 2022). She is the coeditor of the collection Redesigning Liberal Education: Innovative Design for a Twenty-First Century Undergraduate Education (Johns Hopkins University Press, 2020). She is also the host of the podcast the agile academic for women in higher education.
Constance C. Relihan, PhD (Contributing Editor)
Constance C. Relihan is dean of University College at Virginia Commonwealth University. Prior to her arrival at VCU, she served as the associate provost for undergraduate studies at Auburn University and director of University College. She has been committed to the continuous improvement of the undergraduate academic experience through improving general education, strengthening academic advising, and ensuring that undergraduates are provided with the academic opportunities they need to succeed. She graduated from the University of Illinois at Urbana-Champaign with an AB in English and earned both her MA and PhD in English from the University of Minnesota. Her research focuses on the structural nature and cultural impact of English prose fiction written during the early modern period. She is the author of Cosmographical Glasses: Geographic Discourse, Gender, and Elizabethan Fiction (2004) and Fashioning Authority: The Development of Elizabethan Novelistic Discourse (1994) and is the editor of Framing Elizabethan Fictions: Contemporary Approaches to Early Modern Narrative Prose (1996) and coeditor of Prose Fiction and Early Modern Sexualities (2003).
Group Subscription Options
Assessment, Grading, and Feedback, Blended and Flipped Learning, Course Delivery and Instruction, Course Design and Preparation, Department and Program Evaluation and Assessment, Digital Library, Faculty, Faculty Support, Group Subscription, Institutional Culture, Leadership, Legal Concerns, Monday Morning Mentor, Online Assessment, Grading, and Feedback, Online Course Delivery and Instruction, Online Course Design and Preparation, Online Program Evaluation and Assessment, Online Program Strategy, Personal and Professional Development for Academic Leaders, Specific Student Populations, Student Engagement, Supporting Online Faculty, Teaching Strategies

$

999.00

Campus Safety, Compliance, Department and Program Evaluation and Assessment, Digital Library, Equity, Inclusion, and Diversity, Faculty Support, Group Subscription, Institutional Assessment, Institutional Culture, Leadership, Leadership, Online Program Evaluation and Assessment, Online Program Strategy, Personal and Professional Development for Academic Leaders, Regulatory Compliance, Risk Management, Strategic Planning, Student Support, Supporting Online Faculty, Title IX Clery and VAWA

From:

$

1,297.00

for 1 year