How Can I Write a Course Syllabus That's Worth Reading?
Your syllabus is one of the first impressions your course will make on your students. Need an aha moment to punch up your syllabi? Learn how to transform them from long, boring and text-laden documents to something elegant and engaging that your students will want to read.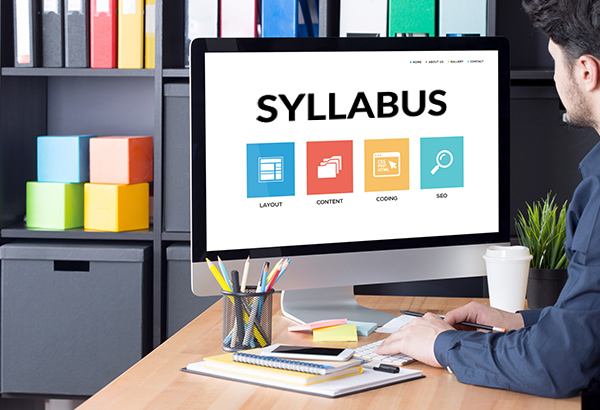 How Can I Write a Course Syllabus That's Worth Reading?
A well-crafted syllabus invites you to think more intentionally about pedagogy and allows you to center one of the courses most important orienting experiences around your students and their learning. Rather than just a form of policies and procedures, a syllabus can be both a thing of beauty and a learning tool about your teaching.
Learning Goals
After viewing this program, participants will be able to:
Identify the purpose of the syllabus for learners and instructors
Recognize the role of the syllabus as a powerful course learning tool within the course design process
Craft a syllabus that establishes pedagogical intent
Incorporate font, layout, and graphic choices to elegantly display necessary course elements and communicate those with the student
Topics Covered
The three steps of building a syllabus

Course design
Syllabus design
Visual design
Examples and inspiration for how to write a course syllabus

Define a syllabus and its purpose
Audience
This program will benefit:
Faculty
Instructors
Instructional Designers
Product Code: PM19SA
Campus Access License
With the purchase of the optional Campus Access License, registrants are granted a license to download the program contents to a password-protected network, server, or website for additional staff use. You will receive information on downloading the contents of the program within 3-5 business days after payment has been received by Magna.
Group Subscription Options
Assessment, Grading, and Feedback, Blended and Flipped Learning, Course Delivery and Instruction, Course Design and Preparation, Department and Program Evaluation and Assessment, Digital Library, Faculty, Faculty Support, Group Subscription, Institutional Culture, Leadership, Legal Concerns, Monday Morning Mentor, Online Assessment, Grading, and Feedback, Online Course Delivery and Instruction, Online Course Design and Preparation, Online Program Evaluation and Assessment, Online Program Strategy, Personal and Professional Development for Academic Leaders, Specific Student Populations, Student Engagement, Supporting Online Faculty, Teaching Strategies

$

999.00

Campus Safety, Compliance, Department and Program Evaluation and Assessment, Digital Library, Equity, Inclusion, and Diversity, Faculty Support, Group Subscription, Institutional Assessment, Institutional Culture, Leadership, Leadership, Online Program Evaluation and Assessment, Online Program Strategy, Personal and Professional Development for Academic Leaders, Regulatory Compliance, Risk Management, Strategic Planning, Student Support, Supporting Online Faculty, Title IX Clery and VAWA

From:

$

1,297.00

for 1 year