What are 3 Calendar Hacks Faculty Can Use to Avoid Stress and Burnout?
This 20-Minute Mentor shows how using a calendar effectively can provide boundaries and freedom, turning burnout and stress into efficient time management and heightened productivity.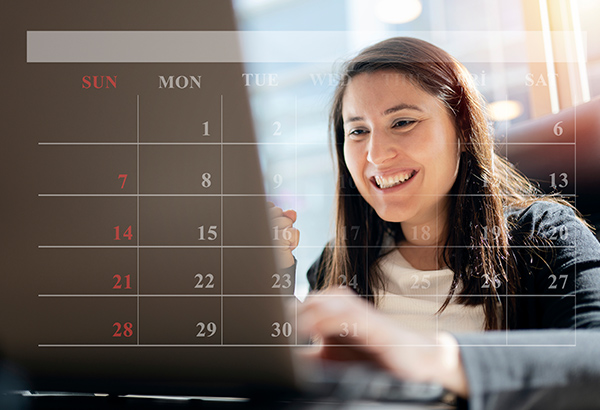 What are 3 Calendar Hacks Faculty Can Use to Avoid Stress and Burnout?
It's no secret that faculty work encompasses much of every day, to the point where it just doesn't seem like there is any available time for anything else. Add in grading, meetings, and responding to messages? No wonder it seems never ending!
Fortunately, there are much needed, time-saving solutions available. This 20-Minute Mentor provides three simple calendar hacks which can help faculty create daily structure to manage time and reduce stress. Faculty regain control of their schedules by using their calendar as a tool to battle back against burnout.
Learning Goals
After viewing this Magna 20-Minute Mentor, participants will be able to:
Understand why it is useful to actively use their calendar
Identify three things they can do to actively use their calendar
Plan and execute a Term Planning Day to anticipate and alleviate stressors
Topics Covered
Guiding Ideas

Cognitive load
Boundaries as freedom
Rethink what is unexpected

Three specific, easy-to-implement calendar hacks
Audience
This program will benefit Faculty of any discipline or modality.
Product Code: PM22OA
Campus Access License
With the purchase of the optional Campus Access License, registrants are granted a license to download the program contents to a password-protected network, server, or website for additional staff use. You will receive information on downloading the contents of the program within 3-5 business days after payment has been received by Magna.
Group Subscription Options
Assessment, Grading, and Feedback, Blended and Flipped Learning, Course Delivery and Instruction, Course Design and Preparation, Department and Program Evaluation and Assessment, Digital Library, Faculty, Faculty Support, Group Subscription, Institutional Culture, Leadership, Legal Concerns, Monday Morning Mentor, Online Assessment, Grading, and Feedback, Online Course Delivery and Instruction, Online Course Design and Preparation, Online Program Evaluation and Assessment, Online Program Strategy, Personal and Professional Development for Academic Leaders, Specific Student Populations, Student Engagement, Supporting Online Faculty, Teaching Strategies

$

999.00

Campus Safety, Compliance, Department and Program Evaluation and Assessment, Digital Library, Equity, Inclusion, and Diversity, Faculty Support, Group Subscription, Institutional Assessment, Institutional Culture, Leadership, Leadership, Online Program Evaluation and Assessment, Online Program Strategy, Personal and Professional Development for Academic Leaders, Regulatory Compliance, Risk Management, Strategic Planning, Student Support, Supporting Online Faculty, Title IX Clery and VAWA

From:

$

1,297.00

for 1 year