Developing and Teaching an Online Course
Developing and Teaching an Online Course is your surest path to online teaching success. This content-rich, 20- to 25-hour Magna Online Course provides core principles and best practices in online teaching—to get you up and running fast, without costly and frustrating false starts.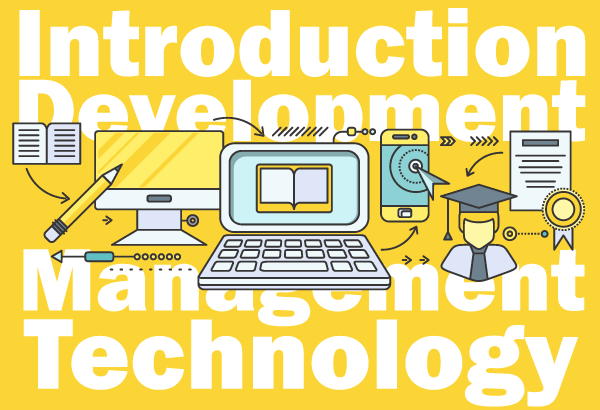 Group Enrollment Pricing

1 person

$329 per person

2-4 people

$295 per person

5-9 people

$209 per person

10-19 people

$165 per person

20-39 people

$139 per person
Group Enrollment discounts are applied in the cart.
The course enrollment will expire one year after activation.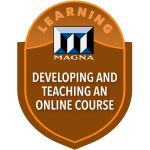 "All faculty teaching online courses should be required to take this course first. It provided me excellent resources to build a better online course. By using a variety of instructional formats and formative summative assessments, the course provided a real example of how to build an effective online course.".
Terri Wasmoen
Adjunct Faculty, College of St. Mary
"I really enjoyed this course and it opened my eyes to reworking my online teaching priorities. I'm leaving the course with the confidence to move forward and a calm mind to reorganize my course with student learning in mind."
Ashlee McGreevy
Visiting Professor of Photography, Grand Valley State University
"This information was very helpful. I am already using what I learned in this class to help shape my online courses. The notes, lectures, guides, articles, lists, and tips have helped me imagine the possibilities. Thank you!"
Amy May
Faculty, Northern Vermont University
"This was a great course! I have been teaching online for close to 10 years. Throughout this course I nodded my head a TON, and equally made a TON of notes and a to-do-list. Thank you!"
Alana Ferguson, MAC, CPA
Associate Professor, Mott Community College
"A very good course worth taking to remove one's fear of online course design, development and teaching."
Dr. Elizabeth S. Ndofirepi
University of the Witwatersrand
Step by step, this accelerated course prepares you to teach online.
Presented in four units, Developing and Teaching an Online Course delivers all-new content from a single presenter—Dr. Brian Udermann, director of online education at the University of Wisconsin-La Crosse and a 15-year veteran of the online classroom.
First, you'll get a look at the current state of online education, and the fundamental differences between online and face-to-face teaching.
Next, you'll learn how to transition to the online classroom while retaining the sense of community a face-to-face classroom provides. You'll get invaluable guidance on course development – from using backward design, to developing sound course structure and navigation, to creating a comprehensive syllabus.
From there, you'll discover the best way to run your courses: how to establish your classroom "presence", use online discussions effectively, administer assessments, and provide feedback.
You'll be introduced to a variety of technology tools, and you'll learn how to employ them with purpose.
You'll see how to use your LMS to your advantage, how to use video confidently, and how to stay attuned to ADA compliance requirements.
The course includes video content supplemented by worksheets, assessments (including a final one), reflection questions, and transcripts. It is asynchronous: You can start and stop whenever you like, and learn at your own pace.
Learning Goals
After completing Developing and Teaching an Online Course, you'll be able to:
Articulate the differences between face-to-face and online teaching
Build and present online courses with confidence
Create syllabi, assessments, feedback methods, and other classroom tools based on best practices
Use technology to enhance students' classroom experience and learning outcomes
This is a comprehensive guide for anyone new to online teaching – and a great refresher for those who have been at it for a while!
View the course outline and learning objectives!
Who Will Benefit From This Course:
Faculty who teach online
Faculty preparing to teach online

Group Enrollment:
Discount pricing is available for multiple seats purchased at the same time.
For 10 or more seats, please contact Magna Sales at sales@magnapubs.com or call 800-433-0499 ext. 183 to receive a customized quote.
The course enrollment will expire one year from date of purchase.
Product Code
: QO20AA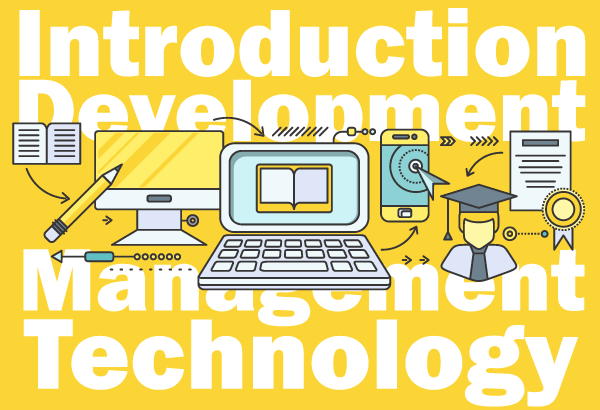 Group Enrollment Pricing

1 person

$329 per person

2-9 people

$229 per person

10-49 people

$179 per person

50-99 people

$159 per person
Group Enrollment discounts are applied in the cart.
The course enrollment will expire one year after activation.
If you are not completely satisfied with your purchase, you may cancel the order within 30 days of purchase and receive a full refund.
Group Subscription Options
Campus Safety, Compliance, Department and Program Evaluation and Assessment, Digital Library, Equity, Inclusion, and Diversity, Faculty Support, Group Subscription, Institutional Assessment, Institutional Culture, Leadership, Leadership, Online Program Evaluation and Assessment, Online Program Strategy, Personal and Professional Development for Academic Leaders, Regulatory Compliance, Risk Management, Strategic Planning, Student Support, Supporting Online Faculty, Title IX Clery and VAWA

From:

$

1,297.00

for 1 year

Assessment, Grading, and Feedback, Blended and Flipped Learning, Course Delivery and Instruction, Course Design and Preparation, Department and Program Evaluation and Assessment, Digital Library, Faculty, Faculty Support, Group Subscription, Institutional Culture, Leadership, Legal Concerns, Monday Morning Mentor, Online Assessment, Grading, and Feedback, Online Course Delivery and Instruction, Online Course Design and Preparation, Online Program Evaluation and Assessment, Online Program Strategy, Personal and Professional Development for Academic Leaders, Specific Student Populations, Student Engagement, Supporting Online Faculty, Teaching Strategies

$

999.00