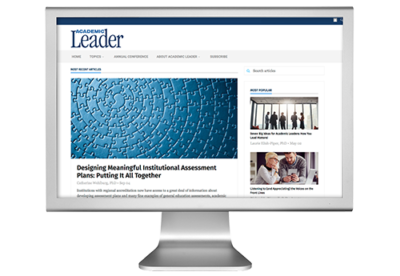 Academic Leader Group Subscription
As essential reading for those who are leaders in higher education, this is a monthly resource you won't want to miss. Now available with group subscriptions for educational institutions, this subscription offers keen insights and evidence-based practices from higher education leaders around the world, committed to addressing the ever-changing environment of educational institutions.
Provide Administrators with an Insightful Resource
The Benefits of a Group Subscription
The only way to lead is to continue to learn how to lead better. When you provide your administrators, department chairs, academic deans, program coordinators, and senior faculty with the resources they need, they can continue to enhance their educational environment. With a group subscription to Academic Leader, your higher education leaders gain access to fresh perspectives, actionable insights, expert guidance and much, much more.
And, the more subscribers you sign on to receive Academic Leader, the more you save. Instead of paying for individual subscriptions, buying a group subscription offers a much more cost-effective way to distribute viable research, articles and leadership strategies for your academic leaders.
The Value of Academic Leader
Since 1984, Academic Leader has offered college and university personnel with a fresh perspective. Articles cover a wide range of topics including insight on how to promote faculty development, set academic priorities, evaluate faculty effectively and fairly, lead and manage change and build consensus and facilitate collaboration so you can champion your academic programs.
Academic Leader provides practical insights into academic leadership at a time when economic pressures, budgetary restraints, compliance issues and an increasingly diverse student body affect decision making. Complex issues are common for leaders in higher education. Offer your campus leaders the tools and resources they need to be their best as leaders.
When opting for a group subscription of Academic Leader, your campus leaders will receive:
Articles that keep you in the know with everything today's academic leaders need to recognize and comprehend
Case studies exploring strategies taken at a featured institution for you to model
Q&As with notable academic leaders around the world
Full access to a searchable library of archived articles and resources loaded with sage advice that will make your institution stand out
Supply your campus leaders with resources and tools that will boost motivation and positively impact leadership practices.
Start Your Group Subscription Today
We know that the resources, insightful articles and research will pave the way for growth in leadership and professional development. Now is the time to provide your campus leaders with the insightful information and expert advice they need to better serve your students, faculty and staff when signing up for a group subscription to Academic Leader.
Customize your subscription so it's right for you! 5 person and 10 person group subscriptions are available as well as options to cover your entire team, department, or campus! Please contact our Sales department to begin receiving one of the best resources for higher-education leaders.
For more information or to purchase please contact Magna Sales at sales@magnapubs.com or call 800-433-0499 ext. 183
For a limited time, you can get a free group subscription trial of Academic Leader.
Sign up for your Free Trial
Start Your Free Trial Today
Experience full access to Academic Leader with a limited-time free trial.
Start Your Free Trial Today
Note: The free trial is only for higher education administrators. Only one free trial per institution.


For more information or to purchase, please contact Magna Sales at sales@magnapubs.com or call 800-433-0499 ext. 183.

How Does a Group Subscription Work?
A group subscription is designed to give your faculty and staff access to the most valuable research and tools for the classroom. With an online subscription, your institution can choose from several options that include:
Personal Account Access
Your institution purchases a license covering the entire campus community. The institution's designated campus administrator will receive an authorization code to distribute to those interested in receiving the newsletter. These individuals establish their own personal accounts to gain access to the newsletter anytime, anywhere.
IP-Based Access
Your institution purchases a license covering the entire campus community. The subscription is available to anyone accessing it from a campus computer. Subscribers will not need to create a personal account to access the newsletter on campus. To access the newsletter off campus, subscribers will need to register with an authorization code. Benefits of this option include:
No username or password is required to access the newsletter on campus
Anyone off campus who has an active subscription can also access it, but they need to use a username and password and must register with an authorization code.