Applying the Surgeon General's Model for Workplace Mental Health and Wellbeing to Higher Education
Using the Surgeon General's Model for Workplace Mental Health and Wellbeing, your expert presenters provide direct attention toward the causes of stress and burnout and demonstrate how to initiate meaningful change on your campus.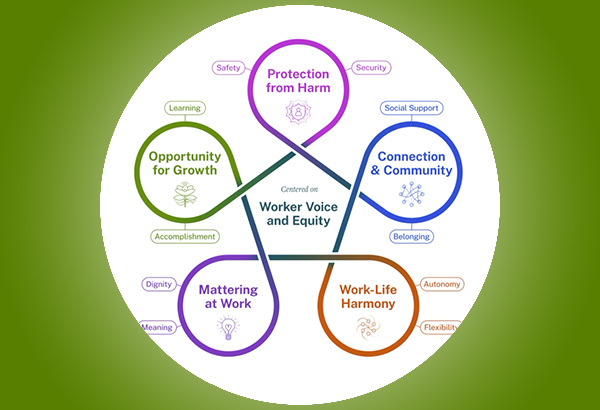 Stress and burnout are leading issues for faculty, students, and staff on campuses worldwide. Yet faculty, staff, and academic leaders are charged with creating a safe, stable environment where students can learn optimally, and faculty can thrive. To most effectively accomplish this, the base causes of stress and burnout must be addressed, and changes need to be made at this foundational level.
In 2022, the U.S. Surgeon General's office issued a robust workplace mental health and wellbeing framework that can be useful for improving the health and wellbeing of campus faculty, staff, administrators, and students. This Magna Online Seminar reviews the model and connect it to campus context. Using a systems approach, the presenters guide participants through potential starting points for implementing a wellbeing improvement plan on their campuses.
Three reasons why you don't want to miss this!
Faculty, student, and staff burnout and exhaustion continues to rise.
The presenters address the base procedural and structural causes of stress and burnout in order to best overcome them.
The presenters reveal a systems thinking approach to identifying the base causes and then a starting point for implementing a cure.
What are the learning goals?
Upon completion of this seminar, you'll be able to:
Understand the U.S. Surgeon General's Framework for Workplace Mental Health and Wellbeing
Link campus priorities to wellbeing initiatives
Start implementing a systems approach for implementing your campus wellbeing initiative
Who should attend?
This program is suitable for many roles within an institution of higher education including:
Faculty
Faculty developers
Student services professionals
Wellness coordinators
Department chairs
Deans
Associate deans
Provosts
What's included?
Your seminar registration includes the following:
12-month on-demand access
The program can be viewed as often as needed while on-demand access is available
Written transcript and supplemental materials
100% satisfaction guarantee
Product Code: OC23FD
Campus Access License
With the purchase of the optional Campus Access License, registrants are granted a license to download the program contents to a password-protected network, server, or website for additional staff use. You will receive information on downloading the contents of the program within 3-5 business days after payment has been received by Magna.
Group Subscription Options
Campus Safety, Compliance, Department and Program Evaluation and Assessment, Digital Library, Equity, Inclusion, and Diversity, Faculty Support, Group Subscription, Institutional Assessment, Institutional Culture, Leadership, Leadership, Online Program Evaluation and Assessment, Online Program Strategy, Personal and Professional Development for Academic Leaders, Regulatory Compliance, Risk Management, Strategic Planning, Student Support, Supporting Online Faculty, Title IX Clery and VAWA

From:

$

1,297.00

for 1 year

Assessment, Grading, and Feedback, Blended and Flipped Learning, Course Delivery and Instruction, Course Design and Preparation, Department and Program Evaluation and Assessment, Digital Library, Faculty, Faculty Support, Group Subscription, Institutional Culture, Leadership, Legal Concerns, Monday Morning Mentor, Online Assessment, Grading, and Feedback, Online Course Delivery and Instruction, Online Course Design and Preparation, Online Program Evaluation and Assessment, Online Program Strategy, Personal and Professional Development for Academic Leaders, Specific Student Populations, Student Engagement, Supporting Online Faculty, Teaching Strategies

$

999.00