Creating and Maintaining a Robust Faculty Mentoring Program
You will learn how to establish and maintain a meaningful faculty mentoring program that enables your faculty to be successful as teachers, scholars, and citizens.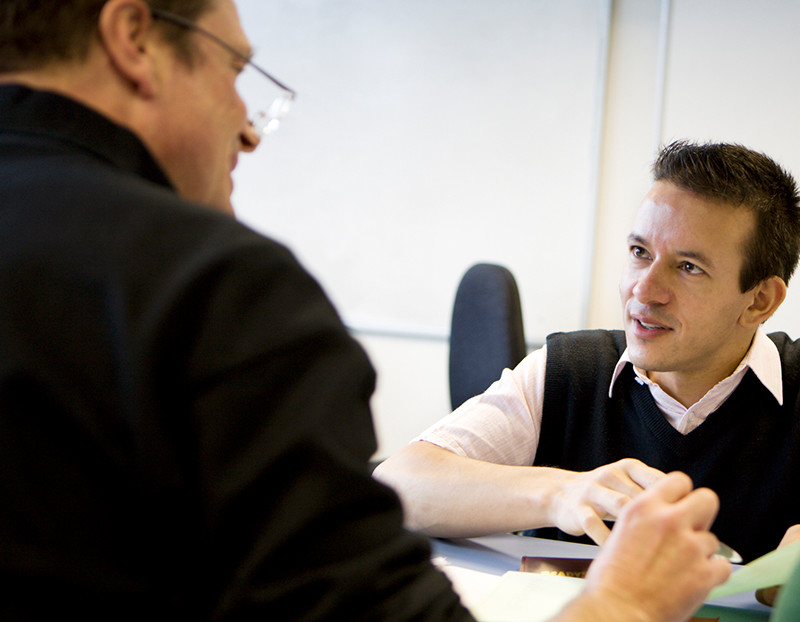 Universities and colleges spend large sums of money to find, recruit, and hire new faculty.
Without sufficient guidance, many of those new faculty members will fall short of expectations somewhere along the path to tenure. One way to ensure new faculty can balance their responsibilities and fulfill their academic roles is through faculty mentoring programs.
An effective faculty mentoring program is grounded in nurturing new faculty without draining too much time and energy from mentors. The goal is for both the mentor and mentee to benefit from the relationship. Cultivating such a dynamic, however, is easier said than done.
Register today for the Magna online seminar, Creating and Maintaining a Robust Mentoring Program, presented by Kenneth Alford, PhD, and Tyler Griffin, PhD. By approaching faculty mentoring from both the mentor and mentee perspectives, this presentation provides balanced insights into methods for creating and maintaining worthwhile mentorship programs.
Benefits
No matter who you are or where you are in your career, you have likely been a mentor or mentee at some point. By participating in this seminar, you'll gain new perspectives on mentor-mentee relationships and strategies that will give new faculty the edge to succeed.
Both Alford and Griffin have extensive mentoring experience and hold differing points of view on the topic. This engaging program, full of real-world advice, will inspire both academic leaders and faculty alike to build and maintain healthy mentoring relationships which, in turn, will improve morale and promote faculty and student success across campus.
Learning Goals
Building an effective faculty mentoring program is an important part of creating an institutional culture of success. Whether your institution already has a mentoring program in place or you're looking to start a program from scratch, this seminar will give you practical advice and strategies that you can implement right away.
Upon completion of this seminar, you'll be able to:
Establish and maintain a robust faculty mentoring program
Understand mentoring from both the mentor and mentee perspectives
Enable mentors to succeed
Enable mentees to succeed
Improve relationships across campus
Create effective, successful faculty
Topics Covered
The pros and cons of mentoring programs
Mentoring principles and practices for program administrators, faculty mentors, and mentored faculty
How to be an accessible mentor and effectively manage your time
Practical advice for establishing and maintaining a successful mentoring relationship
Audience
This seminar will be of particular interest to deans, associate deans, department chairs, senior faculty, mid-career faculty, aspiring mentors, and new faculty who are interested in building an effective mentorship program or enhancing a program already in place.
Purchase
By improving faculty mentor-mentee relationships on your campus, you'll stand to gain more effective faculty, more successful students, and better-quality courses, programs, and evaluations. Register for this online seminar today!
Your seminar registration includes the following:
Downloadable PowerPoint presentations from the speaker
Written transcript
Supplemental materials
100% satisfaction guarantee
Product Code: OC18AD
Campus Access License
With the purchase of the optional Campus Access License, registrants are granted a license to download the program contents to a password-protected network, server, or website for additional staff use. You will receive information on downloading the contents of the program within 3-5 business days after payment has been received by Magna.
Group Subscription Options
Campus Safety, Compliance, Department and Program Evaluation and Assessment, Digital Library, Equity, Inclusion, and Diversity, Faculty Support, Group Subscription, Institutional Assessment, Institutional Culture, Leadership, Leadership, Online Program Evaluation and Assessment, Online Program Strategy, Personal and Professional Development for Academic Leaders, Regulatory Compliance, Risk Management, Strategic Planning, Student Support, Supporting Online Faculty, Title IX Clery and VAWA

From:

$

1,297.00

for 1 year

Assessment, Grading, and Feedback, Blended and Flipped Learning, Course Delivery and Instruction, Course Design and Preparation, Department and Program Evaluation and Assessment, Digital Library, Faculty, Faculty Support, Group Subscription, Institutional Culture, Leadership, Legal Concerns, Monday Morning Mentor, Online Assessment, Grading, and Feedback, Online Course Delivery and Instruction, Online Course Design and Preparation, Online Program Evaluation and Assessment, Online Program Strategy, Personal and Professional Development for Academic Leaders, Specific Student Populations, Student Engagement, Supporting Online Faculty, Teaching Strategies

$

999.00