Extended Reality (XR) As A Tool for Impactful and Engaged Learning
Extended reality (XR) can be used as a tool for impactful and engaged learning and is more within reach than you may believe! Join an expert as they lead you through the what, why, and how of XR so you can effectively implement it in your own classroom and positively impact student engagement and outcomes.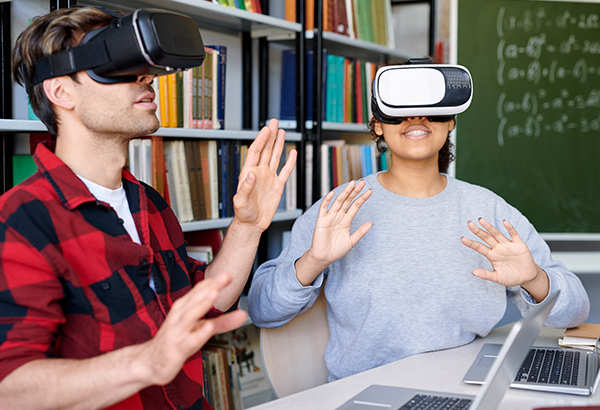 Digital technologies are being integrated into all sectors of our society, including how we work, how we learn, and how we play. One digital technology being used today is extended reality (XR), which includes virtual (VR), augmented (AR) and mixed realities (MR).
What sets XR apart is that it can be immersive and it can mimic real world scenarios. Furthermore, XR can be and should be a tool in every educator's toolbox.
This Magna Online Seminar:
begins with an overview of XR technologies,
explains how XR can impact student outcomes,
provides the audience with resources and examples of how XR can be used in the classroom,
and dispenses the next steps needed to integrate XR into your own classroom.
Three reasons why you don't want to miss this!
XR is a digital tool that you need to have in your teaching toolbox
XR can positively influence student learning outcomes by increasing engagement and excitement in the classroom
You'll be ready to explore where XR can be implemented in your own classroom
What are the learning goals?
Upon completion of this seminar, you'll be able to:
Recognize the basics of XR, how it is being used in our society, and how it is different from other digital technologies used in the classroom
Have peer-reviewed evidence of how XR impacts student learning outcomes
Understand how others are using XR
Take away resources to further your learning on this subject
Identify one assignment that could be converted to XR and then create a plan for how to change that assignment
Who should attend?
Faculty
Librarians
Center for Teaching and Learning Staff
What's included?
Your seminar registration includes the following:
12-month on-demand access
The program can be viewed as often as needed while on-demand access is available
Written transcript and supplemental materials
100% satisfaction guarantee
Product Code: PC23NA
Campus Access License
With the purchase of the optional Campus Access License, registrants are granted a license to download the program contents to a password-protected network, server, or website for additional staff use. You will receive information on downloading the contents of the program within 3-5 business days after payment has been received by Magna.
Group Subscription Options
Campus Safety, Compliance, Department and Program Evaluation and Assessment, Digital Library, Equity, Inclusion, and Diversity, Faculty Support, Group Subscription, Institutional Assessment, Institutional Culture, Leadership, Leadership, Online Program Evaluation and Assessment, Online Program Strategy, Personal and Professional Development for Academic Leaders, Regulatory Compliance, Risk Management, Strategic Planning, Student Support, Supporting Online Faculty, Title IX Clery and VAWA

From:

$

1,297.00

for 1 year

Assessment, Grading, and Feedback, Blended and Flipped Learning, Course Delivery and Instruction, Course Design and Preparation, Department and Program Evaluation and Assessment, Digital Library, Faculty, Faculty Support, Group Subscription, Institutional Culture, Leadership, Legal Concerns, Monday Morning Mentor, Online Assessment, Grading, and Feedback, Online Course Delivery and Instruction, Online Course Design and Preparation, Online Program Evaluation and Assessment, Online Program Strategy, Personal and Professional Development for Academic Leaders, Specific Student Populations, Student Engagement, Supporting Online Faculty, Teaching Strategies

$

999.00