How to Create a Successful Graduate Teaching Assistant Training and Development Program
This program offers academic leaders a flexible structure for building or strengthening their graduate teaching assistant programs from recruitment to performance feedback.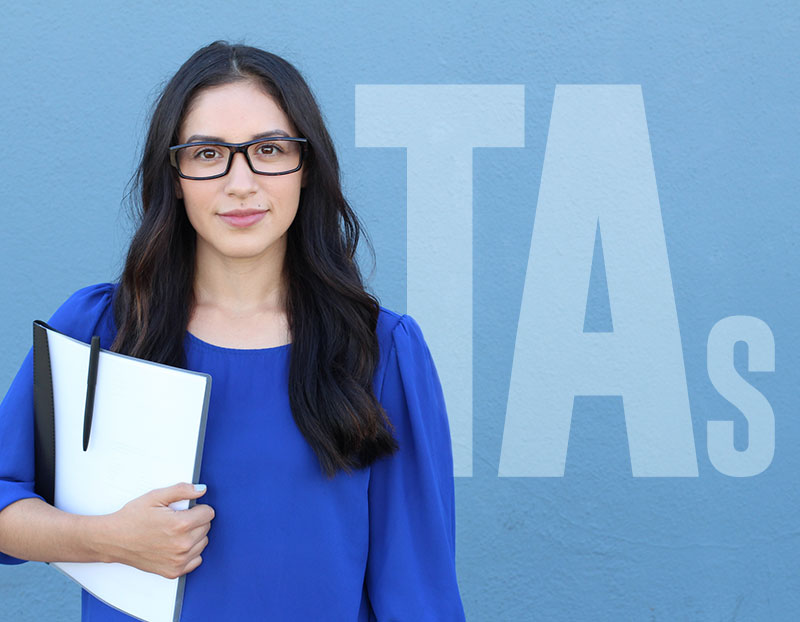 A teaching assistantship offers graduate students a wealth of educational and professional benefits, providing opportunities to gain further expertise in the field, enhance research skills, develop pedagogical skills, acquire leadership experience, and enjoy collegial collaborations with academic leaders.
However, too often, inexperienced graduate teaching assistants (GTAs) enter the classroom with inadequate training or resources, hindering their ability to function effectively as new higher education teachers.
Underprepared GTAs require more management time from faculty supervisors, frustrate students, and ultimately fail in facilitating the intended learning outcomes of their courses.
But with careful selection, training, supervision, evaluation, and coaching, GTAs become an asset to academic programs. The How to Create a Successful Graduate Teaching Assistant Training and Development Program online seminar, presented by Jennifer Waldeck, PhD, explains how to create successful programs that attract students, generate funding, and make an important contribution to the quality of academic work.
Benefits
There are many challenges directors must navigate when creating a successful program for GTAs, including recruiting GTAs that will be committed to their teaching work, training underprepared GTAs, managing conflicts between GTAs and supervising faculty, and recognizing when the fit between GTAs and programs is poor. This seminar offers you a flexible structure for building or strengthening all aspects of your GTA programs-from recruitment to delivering performance feedback.
This seminar shows you how to:
Clearly define the role GTAs play in your program
Use standard applications to assess teaching interest
Train and orient GTAs into your academic program
Learning Goals
This engaging seminar equips you with an enhanced understanding of your own role in developing GTAs and preparing them for success.
After watching this seminar, you will:
Understand the pedagogical and communication competencies required of GTAs and how to help GTAs build them
Be able to implement a systematic plan for recruiting, training, evaluating, and delivering useful performance feedback to GTAs
Learn whats required to build successful GTA programs that attract students, generate funding, and allow units to meet the demand for basic undergraduate courses
Be prepared to respond to HR challenges associated with GTA programs
Topics Covered
Defining the roles of GTAs and the roles of directors in developing successful GTA programs
Practical strategies for developing and maintaining an effective program for GTAs
Reviewing best practices and lessons learned from prosperous GTA programs
Audience
This seminar is designed for academic leaders interested in building or strengthening all aspects of their GTA programs. This includes:
Directors of Graduate Students
Graduate Coordinators
Department Chairs
Deans
GTA Coordinators
Directors of Faculty Development
Purchase
Through this interactive and engaging program, you'll discover a robust set of resources-such as questions for self-assessment, sample documents, and worksheets-necessary for developing concrete strategies that will help you strengthen your campus GTA programs.
Order today and start removing the obstacles related to teaching assistantships.
Product Code: PC17KA
Campus Access License
With the purchase of the optional Campus Access License, registrants are granted a license to download the program contents to a password-protected network, server, or website for additional staff use. You will receive information on downloading the contents of the program within 3-5 business days after payment has been received by Magna.
Group Subscription Options
Campus Safety, Compliance, Department and Program Evaluation and Assessment, Digital Library, Equity, Inclusion, and Diversity, Faculty Support, Group Subscription, Institutional Assessment, Institutional Culture, Leadership, Leadership, Online Program Evaluation and Assessment, Online Program Strategy, Personal and Professional Development for Academic Leaders, Regulatory Compliance, Risk Management, Strategic Planning, Student Support, Supporting Online Faculty, Title IX Clery and VAWA

From:

$

1,297.00

for 1 year

Assessment, Grading, and Feedback, Blended and Flipped Learning, Course Delivery and Instruction, Course Design and Preparation, Department and Program Evaluation and Assessment, Digital Library, Faculty, Faculty Support, Group Subscription, Institutional Culture, Leadership, Legal Concerns, Monday Morning Mentor, Online Assessment, Grading, and Feedback, Online Course Delivery and Instruction, Online Course Design and Preparation, Online Program Evaluation and Assessment, Online Program Strategy, Personal and Professional Development for Academic Leaders, Specific Student Populations, Student Engagement, Supporting Online Faculty, Teaching Strategies

$

999.00