How to Effectively Lead Change in Higher Education
If you want to make things happen on your campus and help others embrace the changes, you just need to know the steps to take that help ensure success. This seminar breaks change down into a process and then gives you a road map to follow.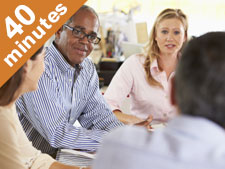 Lead the Charge: Become a Campus Change Agent
If you want to implement change on your campus, you need a framework to help you plan, work incrementally toward your goal, and position yourself for success.
This seminar gives you that framework.
If you would like to introduce a new or different concept to your campus, but you aren't sure how to do it, this 40-minute seminar presents the change process as a multi-step methodology that you can adapt to any idea or endeavor.
Learning Goals
After this seminar, you will be able to:
Create a sense of urgency around the change you want to lead
Select a guiding coalition to lead the change
Identify the key obstacles to the change you want to lead
Empower employees to implement change by training, removing obstacles, and aligning evaluation systems
Generate short-term wins related to change in order to build momentum for its successful implementation
This is a targeted seminar that delivers what you need to know about leading change.
Topics Covered
This seminar presents a proven framework that covers the various steps of the change process.
These include building a sense of urgency about a proposed change, building a coalition to lead the change, identifying obstacles, empowering individuals to overcome those obstacles, aligning evaluation systems, and generating incremental wins to prove progress and generate momentum.
Participants will also learn:
That change doesn't happen by authoritarian decree
To work with colleagues to build a case for necessary change before launching a change initiative
How to establish a guiding coalition to lead the change
How to identify the key obstacles to address (and be sure you can address each obstacle before you ask others to commit to the change)
How to generate quantifiable, short-term wins related to the change
How to use those short-term wins to build momentum
Audience
How to Effectively Lead Change in Higher Education would be particularly useful for the following:
Department chairs
Deans
Vice presidents
Faculty members
Anyone eager to have a department or school embrace a new concept, approach, or idea
Purchase
Fundamentally, change is not a decision. It is a process. Order today and begin your process.
Product Code: OC15AA
Campus Access License
With the purchase of the optional Campus Access License, registrants are granted a license to download the program contents to a password-protected network, server, or website for additional staff use. You will receive information on downloading the contents of the program within 3-5 business days after payment has been received by Magna.
Group Subscription Options
Campus Safety, Compliance, Department and Program Evaluation and Assessment, Digital Library, Equity, Inclusion, and Diversity, Faculty Support, Group Subscription, Institutional Assessment, Institutional Culture, Leadership, Leadership, Online Program Evaluation and Assessment, Online Program Strategy, Personal and Professional Development for Academic Leaders, Regulatory Compliance, Risk Management, Strategic Planning, Student Support, Supporting Online Faculty, Title IX Clery and VAWA

From:

$

1,297.00

for 1 year

Assessment, Grading, and Feedback, Blended and Flipped Learning, Course Delivery and Instruction, Course Design and Preparation, Department and Program Evaluation and Assessment, Digital Library, Faculty, Faculty Support, Group Subscription, Institutional Culture, Leadership, Legal Concerns, Monday Morning Mentor, Online Assessment, Grading, and Feedback, Online Course Delivery and Instruction, Online Course Design and Preparation, Online Program Evaluation and Assessment, Online Program Strategy, Personal and Professional Development for Academic Leaders, Specific Student Populations, Student Engagement, Supporting Online Faculty, Teaching Strategies

$

999.00