How to Improve Academic Lectures with TED Talk Principles: Connect, Convey, Communicate
For faculty who struggle with engaging content delivery, this Magna Online Seminar gives specific, practical steps to add enthusiasm and excitement to lectures and presentations.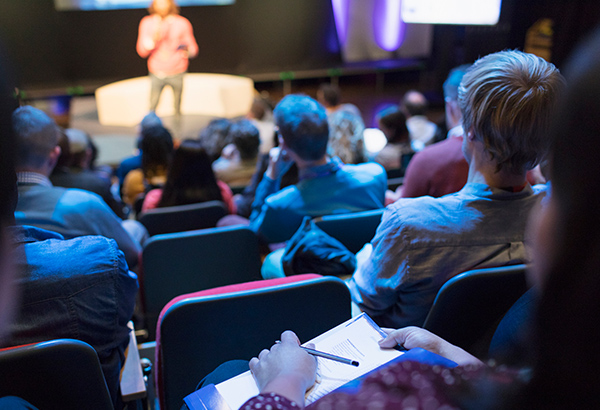 TED Talks have come to represent the pinnacle of effective presentations.
Concise, engaging, and memorable, they are increasingly the yardstick by which speakers-including university faculty-are measured. Yet TED Talks are very different than academic lectures: they are one-time, high-profile, short presentations for an enthusiastic and voluntary audience for which the speaker receives ample practice and professional coaching. Despite these differences, there are principles we can distill from TED Talks that can make ordinary lectures and talks more effective. In this Magna online seminar, we will watch and analyze snippets from TED Talks and discuss five TED principles that will help make academic lectures more compelling while still maintaining educational integrity and substance.
What are the learning goals?
Upon completion of this seminar, you'll be able to:
Make a connection with your audience
Establish a clear, consistent throughline
Apply the 5 Cs of storytelling
Here's what we'll cover!
Five elements of TED talks applied to higher-education lectures:
Idea
Through line
Connection
Story
Structure
Who should attend?
This seminar will benefit:
Faculty
Administrators
Instructional designers
What's included?
Your seminar registration includes the following:
On-demand access
Downloadable PowerPoint presentations from the speaker
Written transcript
Supplemental materials
100% satisfaction guarantee
There is no limit to how many times the seminar is accessed while available.
Educational Development Resources for Your Entire Campus
Whether you are an educator or a leader at your educational institution or organization, Magna has resources for how you want to learn:
Individual programs to fill specific learning needs
Preselected programs that come to you on a regular schedule
Deep dive courses for complete immersion to master skills in a specific topic area
Program groups built around a specific topic area or discipline
A complete professional development library covering educator's needs in all topic areas
Want to learn more? Contact sales@magnapubs.com for a free consultation.
Product Code: PC19MA
Campus Access License
With the purchase of the optional Campus Access License, registrants are granted a license to download the program contents to a password-protected network, server, or website for additional staff use. You will receive information on downloading the contents of the program within 3-5 business days after payment has been received by Magna.
Group Subscription Options
Campus Safety, Compliance, Department and Program Evaluation and Assessment, Digital Library, Equity, Inclusion, and Diversity, Faculty Support, Group Subscription, Institutional Assessment, Institutional Culture, Leadership, Leadership, Online Program Evaluation and Assessment, Online Program Strategy, Personal and Professional Development for Academic Leaders, Regulatory Compliance, Risk Management, Strategic Planning, Student Support, Supporting Online Faculty, Title IX Clery and VAWA

From:

$

1,297.00

for 1 year

Assessment, Grading, and Feedback, Blended and Flipped Learning, Course Delivery and Instruction, Course Design and Preparation, Department and Program Evaluation and Assessment, Digital Library, Faculty, Faculty Support, Group Subscription, Institutional Culture, Leadership, Legal Concerns, Monday Morning Mentor, Online Assessment, Grading, and Feedback, Online Course Delivery and Instruction, Online Course Design and Preparation, Online Program Evaluation and Assessment, Online Program Strategy, Personal and Professional Development for Academic Leaders, Specific Student Populations, Student Engagement, Supporting Online Faculty, Teaching Strategies

$

999.00