Teaching About Religion, Faith, and Spirituality in Secular Studies Classes
Learn to create classroom environments that promote academic discussions of faith as a form of personal identity, diversity, belief, motivation, culture-community, privilege, and oppression.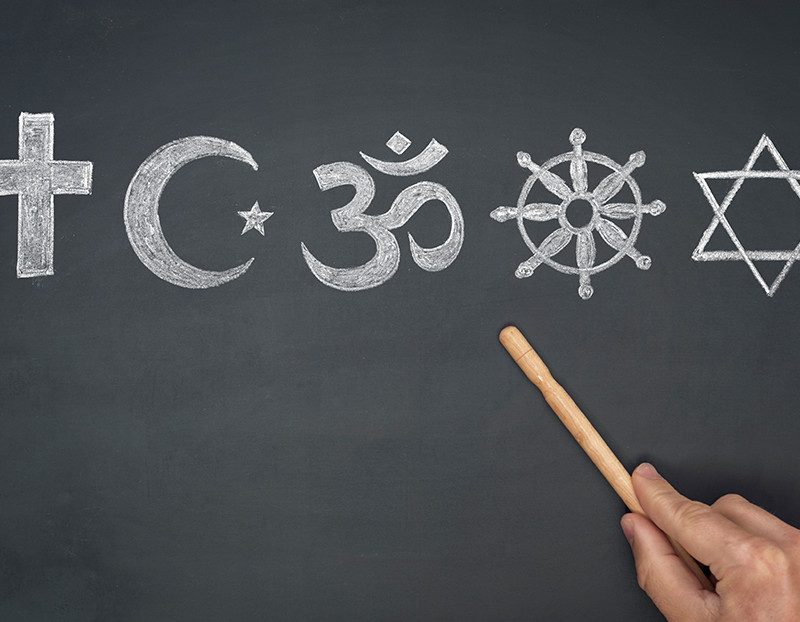 Religion, faith, spirituality, and worldview factor heavily into personal identity, diversity, life experiences, values, and decision-making processes—all things that a lot of students are developing or coming to terms with as they maneuver through their college education.
The prospect of addressing the personal and potentially volatile topics of religion and faith in courses can seem daunting for teachers whose scholarship falls outside these areas. But these are important subjects that, when discussed carefully and objectively in secular studies classes, can help open up a larger conversation about diversity, privilege, and oppression.
You'll gain a fuller understanding of the means of discussing religion and spirituality in classes regardless of your own beliefs and practices, and explore rationales for including these among course topics, resources for supporting instruction, and tools for responding to challenges in teaching about these vital yet heated subjects.
What are the learning goals?
Determine educational imperatives for addressing religion and faith in secular studies courses
Identify resources of credible scholarly content to facilitate discussions about religious topics
Create classroom environments that promote academic discussions of faith as a form of personal identity, diversity, belief, motivation, culture-community, privilege, and oppression
Begin to generate lesson plans on these subjects
Here's what we'll cover!
The intersection of religion with disciplines across the academy and current world events
Benefits of student religious literacy
Student perspectives on including faith in the context of secular studies classes
Ways of addressing common faculty concerns regarding discussing faith in secular studies classes
Resources available for supporting faculty who are addressing faith in courses outside religious studies
Sample lesson plan formats that incorporate religious identity and diversity, beliefs, and faith-based practices into other subjects
Strategies for dealing with challenging classroom dynamics that may arise in teaching faith-based subjects
Who should attend?
This seminar will benefit:
Instructors
Department Chairs
Service-Learning Coordinators
Residence Life Coordinators
Resident Assistants
Faculty Developers
Why you don't want to miss this!
This seminar will prepare you to address the needs of a diverse student body and explore options for responding to classroom dynamics around the subjects of religion and spirituality. By identifying resources, considering a variety of lesson ideas, and exploring options for responding to classroom dynamics around the topics of religion, faith, spirituality, and worldview, you'll come away better prepared to discuss these sensitive subjects in secular studies courses, while also cultivating a larger conversation about inclusivity and diversity. Register for this topical seminar today!
What's included?
Your seminar registration includes the following:
On-demand access
Downloadable PowerPoint presentations from the speaker
Written transcript
Supplemental materials
100% satisfaction guarantee
There is no limit to how many times the seminar is accessed while available on-demand.
Educational Development Resources for Your Entire Campus
Whether you are an educator or a leader at your educational institution or organization, Magna has resources for how you want to learn:
Individual programs to fill specific learning needs
Preselected programs that come to you on a regular schedule
Deep dive courses for complete immersion to master skills in a specific topic area
Program groups built around a specific topic area or discipline
A complete professional development library covering educator's needs in all topic areas
Want to learn more? Contact sales@magnapubs.com for a free consultation.
Product Code: PC18LA
Campus Access License
With the purchase of the optional Campus Access License, registrants are granted a license to download the program contents to a password-protected network, server, or website for additional staff use. You will receive information on downloading the contents of the program within 3-5 business days after payment has been received by Magna.
Group Subscription Options
Campus Safety, Compliance, Department and Program Evaluation and Assessment, Digital Library, Equity, Inclusion, and Diversity, Faculty Support, Group Subscription, Institutional Assessment, Institutional Culture, Leadership, Leadership, Online Program Evaluation and Assessment, Online Program Strategy, Personal and Professional Development for Academic Leaders, Regulatory Compliance, Risk Management, Strategic Planning, Student Support, Supporting Online Faculty, Title IX Clery and VAWA

From:

$

1,297.00

for 1 year

Assessment, Grading, and Feedback, Blended and Flipped Learning, Course Delivery and Instruction, Course Design and Preparation, Department and Program Evaluation and Assessment, Digital Library, Faculty, Faculty Support, Group Subscription, Institutional Culture, Leadership, Legal Concerns, Monday Morning Mentor, Online Assessment, Grading, and Feedback, Online Course Delivery and Instruction, Online Course Design and Preparation, Online Program Evaluation and Assessment, Online Program Strategy, Personal and Professional Development for Academic Leaders, Specific Student Populations, Student Engagement, Supporting Online Faculty, Teaching Strategies

$

999.00