Why Students Cheat and What We Can Do About It
Discover what you need to do to reframe your attitudes about and revise your approach to academic dishonesty in this seminar.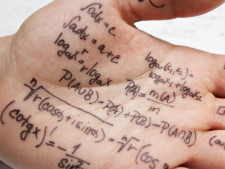 The prevailing statistics on cheating are disheartening.
Some put the rate at 75%. That means three out of every four students admit to some kind of academic dishonesty at some point during their higher education.
We all know that this is not a new phenomenon. Cheating is as old as higher education itself. Older, really, if you look outside the classroom. Classicists tell us that cheating scandals occurred even during the ancient Olympic Games.
So is there really a way to solve a problem with such ancient roots?
There is when you stop viewing cheating as a student behavior issue and start looking at it as a teaching and learning issue.
Benefits
Cheating happens because students have the opportunity and the incentive to do so. If it was harder to cheat and if cheating didn't benefit students by leading to higher grades, it would not happen as often.
In that light, the key to inhibiting cheating is to design courses so that it is difficult to cheat and to create grading structures that encourage learning. In fact, there are concrete steps you can take to strategically revise your course designs and classroom practices to stem cheating and increase learning.
You will finish this seminar with ways to address cheating in your courses and make measurable improvements in student learning.
This seminar helps you see cheating in a new way and will deliver actionable, concrete steps that you can take to discourage cheating in all its forms in your classrooms.
Learning Goals
After viewing Why Students Cheat and What We Can Do About It, you will be able to:
Reconceptualize academic dishonesty as a teaching and learning problem
Construct an assessment system designed to promote mastery learning and reduce cheating
Reframe or redesign courses to foster intrinsic motivation and reduce the incentive to cheat
Incorporate frequent, low-stakes assessments that will create deeper learning and increase student self-efficacy, thereby reducing the incentive to cheat
You receive real strategies and tools to discourage academic dishonesty and increase student learning in your courses.
Topics Covered
This seminar prepares you to implement changes that will reduce the incentive and opportunity for students to cheat in your courses. More specifically, this seminar:
Presents statistics that illustrate the problem of cheating in higher education
Describes and shows analysis of the features of a learning environment that seem to induce higher levels of academic dishonesty
Compares these learning environments to those that feature course designs and classroom practices that reduce cheating and increase learning
Presents several concrete practices that instructors can implement immediately and others that they can incorporate into course design revisions in order to reduce academic dishonesty
Audience
Academic integrity is a concern for all learning institutions. Nearly all instructors confront cheating at some point—whether they realize it or not.
That is why this material is relevant to any educator in any academic environment, from secondary school through graduate programs.
Everyone benefits when instructors know what to do to minimize cheating before the first day of term.
This seminar is particularly useful for the following:
Faculty and other instructors
Academic administrators
Purchase
Order Why Students Cheat and What We Can Do About It and discover what you need to do to reframe your attitudes about and revise your approach to academic dishonesty.
Product Code: PC13QA
Campus Access License
With the purchase of the optional Campus Access License, registrants are granted a license to download the program contents to a password-protected network, server, or website for additional staff use. You will receive information on downloading the contents of the program within 3-5 business days after payment has been received by Magna.
Group Subscription Options
Campus Safety, Compliance, Department and Program Evaluation and Assessment, Digital Library, Equity, Inclusion, and Diversity, Faculty Support, Group Subscription, Institutional Assessment, Institutional Culture, Leadership, Leadership, Online Program Evaluation and Assessment, Online Program Strategy, Personal and Professional Development for Academic Leaders, Regulatory Compliance, Risk Management, Strategic Planning, Student Support, Supporting Online Faculty, Title IX Clery and VAWA

From:

$

1,297.00

for 1 year

Assessment, Grading, and Feedback, Blended and Flipped Learning, Course Delivery and Instruction, Course Design and Preparation, Department and Program Evaluation and Assessment, Digital Library, Faculty, Faculty Support, Group Subscription, Institutional Culture, Leadership, Legal Concerns, Monday Morning Mentor, Online Assessment, Grading, and Feedback, Online Course Delivery and Instruction, Online Course Design and Preparation, Online Program Evaluation and Assessment, Online Program Strategy, Personal and Professional Development for Academic Leaders, Specific Student Populations, Student Engagement, Supporting Online Faculty, Teaching Strategies

$

999.00