From Research to Practice: A Co-Mentoring Model for Women in Faculty Development Leadership
This Magna Online Seminar demonstrates how you can create an effective support system for women leaders through a proven model created by the expert presenters and backed by research.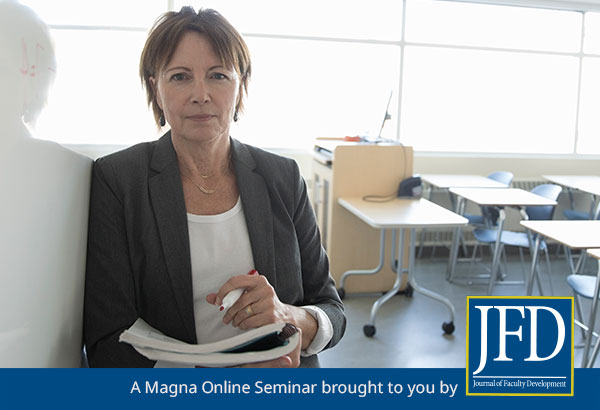 Date: Tuesday, October 11, 2022
Time: 1:00 PM – 2:00 PM Central
The Faculty Development Leadership Co-Mentoring Model is a promising approach for supporting women leaders. This Magna Online Seminar reviews the recently published research and asks the authors to present actionable strategies for launching this model to create an effective support system on other campuses.
Why you don't want to miss this!
Live moderated panel format provides unique interaction with and access to the researchers
Ask direct questions and get answers for the personalized guidance you need
This live online seminar was designed to bring the research to life and provide access to the researchers in an interactive format for further engagement with the published work
What are the learning goals?
Upon completion of this seminar, you'll be able to:
Follow the co-mentoring model to support women in leadership on your campus
Put ideas into action and apply the research to your own campus programs
Explore ways to expand the research in the future
Who should attend?
Directors of Centers for Teaching and Learning
Faculty or Educational Developers
Administrative Leaders
Why This Matters
Although women are well-represented in faculty development leadership positions, there are still inconsistent support systems in place for women leaders. Faculty development requires a unique leadership skill set to work with stakeholders across the institution.
The presenters of this live online seminar conducted a collaborative self-study to investigate how co-mentorship provides women faculty developers a space to explore and develop leadership identity and practice. Data included teaching philosophies, journals, and transcribed co-mentoring meetings. Using grounded theory, three themes emerged: proficiency, self-efficacy, and advocacy.
Considering the interplay between the themes, the Faculty Development Leadership Co-Mentoring Model was identified as a promising approach for supporting women leaders. This Magna Online Seminar reviews the research just published in the Journal of Faculty Development and provides recommendations on how you can bring these ideas into action.
What's included?
Your seminar registration includes the following:
Access to the live online seminar taking place on Tuesday, October 11th
12-month on-demand access after the live seminar takes place
Written transcript
100% satisfaction guarantee
There is no limit to how many times the seminar is accessed while available on-demand.
Product Code: OC22AD
Group Subscription Options
Campus Safety, Compliance, Department and Program Evaluation and Assessment, Digital Library, Equity, Inclusion, and Diversity, Faculty Support, Institutional Assessment, Institutional Culture, Leadership, Leadership, Online Program Evaluation and Assessment, Online Program Strategy, Personal and Professional Development for Academic Leaders, Regulatory Compliance, Risk Management, Strategic Planning, Student Support, Supporting Online Faculty, Title IX Clery and VAWA

Assessment, Grading, and Feedback, Blended and Flipped Learning, Course Delivery and Instruction, Course Design and Preparation, Department and Program Evaluation and Assessment, Digital Library, Faculty, Faculty Support, Institutional Culture, Leadership, Legal Concerns, Monday Morning Mentor, Online Assessment, Grading, and Feedback, Online Course Delivery and Instruction, Online Course Design and Preparation, Online Program Evaluation and Assessment, Online Program Strategy, Personal and Professional Development for Academic Leaders, Specific Student Populations, Student Engagement, Supporting Online Faculty, Teaching Strategies

$

999.00