From Research to Practice: Re-Energized–Focusing on Engagement to Promote Faculty Wellbeing
This Magna Online Seminar is presented by the creators of the Engagement Support Framework, a research-based framework for engaging faculty dealing with burnout which will guide you in not only better facilitating your faculty's ability to achieve student success, but also in shifting your organizational culture from glorifying burnout to celebrating wellbeing.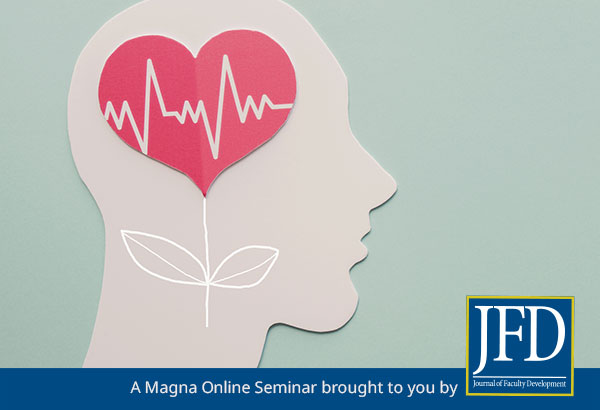 Burnout and wellbeing feel personal, but they are organizational. The wellbeing of an institution's faculty members is fundamental for them to thrive and better serve their community.
In this Magna Online Seminar, your presenters elaborate on their research recently published in The Journal of Faculty Development. Rather than focusing on mitigating burnout, they have created an Engagement Support Framework for engaging faculty to promote wellbeing. This research-based framework keys in on six potential domains of your faculty's job – workload, values, control, reward, community, and fairness – and connects each to crucial areas of faculty engagement:
Energy
Involvement
Effectiveness
Your presenters and creators of the Engagement Support Framework will also explore the potential re-energizing and healing benefits to educational developers for engaging in this type of holistic work.
What are the learning goals?
Upon completion of this seminar, you'll be able to:
Implement concrete ideas on how to launch the Engagement Support Framework
Contribute to shifting organizational culture away from burnout to celebrating wellbeing
Contend with your own experiences of burnout in your position
Who should attend?
Directors of Centers for Teaching and Learning
Faculty or Educational Developers
Administrative Leaders
Why This Matters
As drivers of organizational change, educational developers have an opportunity to contribute to shifting the culture of higher education away from glorifying burnout to celebrating wellbeing. This shift not only benefits the faculty you work with by enabling them to better facilitate their students' learning as holistically and critically engaged scholarly educators, but may also help combat your own feelings of burnout and dissatisfaction in the workplace.
This is your opportunity to take away a research-based framework with tested results and implement it immediately. Don't miss your chance to make a real impact on your campus community!
What's included?
Your seminar registration includes the following:
12-month on-demand access
Written transcript
100% satisfaction guarantee
There is no limit to how many times the seminar is accessed while available on-demand.
Product Code: OC23AD
Campus Access License
With the purchase of the optional Campus Access License, registrants are granted a license to download the program contents to a password-protected network, server, or website for additional staff use. You will receive information on downloading the contents of the program within 3-5 business days after payment has been received by Magna.
Group Subscription Options
Campus Safety, Compliance, Department and Program Evaluation and Assessment, Digital Library, Equity, Inclusion, and Diversity, Faculty Support, Group Subscription, Institutional Assessment, Institutional Culture, Leadership, Leadership, Online Program Evaluation and Assessment, Online Program Strategy, Personal and Professional Development for Academic Leaders, Regulatory Compliance, Risk Management, Strategic Planning, Student Support, Supporting Online Faculty, Title IX Clery and VAWA

From:

$

1,297.00

for 1 year

Assessment, Grading, and Feedback, Blended and Flipped Learning, Course Delivery and Instruction, Course Design and Preparation, Department and Program Evaluation and Assessment, Digital Library, Faculty, Faculty Support, Group Subscription, Institutional Culture, Leadership, Legal Concerns, Monday Morning Mentor, Online Assessment, Grading, and Feedback, Online Course Delivery and Instruction, Online Course Design and Preparation, Online Program Evaluation and Assessment, Online Program Strategy, Personal and Professional Development for Academic Leaders, Specific Student Populations, Student Engagement, Supporting Online Faculty, Teaching Strategies

$

999.00