How Can I Create Authentic Engagement Through Feedback Dialogue?
For faculty whose students are not applying feedback beyond a specific assignment, this 20-Minute Mentor shows how by creating a dialogue around feedback, students will learn not only what needs correcting in a specific assignment, but how to apply this learning to future assignment as well. Learn how to combine feedback with student engagement to create meaningful learning.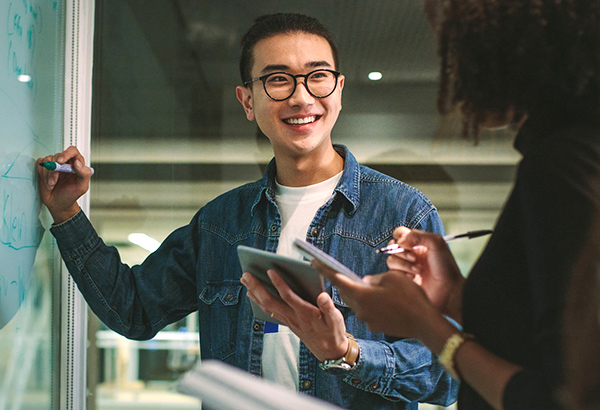 How Can I Create Authentic Engagement Through Feedback Dialogue?
When feedback is offered as an explanation to a grade, most students will focus on the number and not look past it to the reasons why they received that score. Quality feedback can have a massive impact on student success, but what if we took success beyond just a grade? Feedback that creates a dialogue with students can enhance student engagement while encouraging students to deepen their understanding. By involving students in feedback, students are more likely to buy-in and apply their learning beyond a single assignment.
This 20-Minute Mentor imparts proven strategies that get students to listen to and act on instructor feedback which improves student engagement throughout the learning process. Receive practical advice that bridges the gap between instructor and students. This 20-Minute Mentor shows why feedback should be a meaningful dialogue as opposed to just how to give feedback.
Learning Goals
After viewing this Magna 20-Minute Mentor, participants will be able to:
Provide meaningful feedback to students
Create opportunities for student feedback
Restructure feedback to enhance student engagement and learning outcomes
Topics Covered
Meaningful feedback
Reflective feedback
Student engagement through feedback dialogue
Audience
This program will benefit:
Faculty
Instructional Designers
Educational Developers
Product Code: PM22GA
Campus Access License
With the purchase of the optional Campus Access License, registrants are granted a license to download the program contents to a password-protected network, server, or website for additional staff use. You will receive information on downloading the contents of the program within 3-5 business days after payment has been received by Magna.
Group Subscription Options
Assessment, Grading, and Feedback, Blended and Flipped Learning, Course Delivery and Instruction, Course Design and Preparation, Department and Program Evaluation and Assessment, Digital Library, Faculty, Faculty Support, Group Subscription, Institutional Culture, Leadership, Legal Concerns, Monday Morning Mentor, Online Assessment, Grading, and Feedback, Online Course Delivery and Instruction, Online Course Design and Preparation, Online Program Evaluation and Assessment, Online Program Strategy, Personal and Professional Development for Academic Leaders, Specific Student Populations, Student Engagement, Supporting Online Faculty, Teaching Strategies

$

999.00

Campus Safety, Compliance, Department and Program Evaluation and Assessment, Digital Library, Equity, Inclusion, and Diversity, Faculty Support, Group Subscription, Institutional Assessment, Institutional Culture, Leadership, Leadership, Online Program Evaluation and Assessment, Online Program Strategy, Personal and Professional Development for Academic Leaders, Regulatory Compliance, Risk Management, Strategic Planning, Student Support, Supporting Online Faculty, Title IX Clery and VAWA

From:

$

1,297.00

for 1 year