How Can I Enhance the Impact of Feedback in Online Classes?
Feedback is a key element in the learning process. Discover multiple feedback strategies that can grab students' attention, help them learn from their mistakes, and upgrade your online feedback, making it more specific, timely, and effective.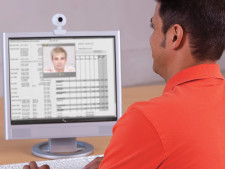 How Can I Enhance the Impact of Feedback in Online Classes?
When it comes to helping online students learn, few practices pack the pedagogical punch of quality online feedback.
Don't you wish your students understood that?
Too many students think of feedback in terms of grading, and they miss out on the educational benefits of following up on their assignments.
Find out how different feedback strategies can grab students' attention in How Can I Enhance the Impact of Feedback in Online Classes?
In this Magna 20-Minute Mentor program, you'll learn specific techniques to help you make online feedback a two-way street.
Benefits
The program presenter points out that common practices in face-to-face and online feedback can undercut the basic goal of feedback, which is to help students understand, and learn from, their missteps and mistakes.
She shares a more holistic approach to help you upgrade your online feedback, making it more specific, timely, and effective—in less time than you might spend grading one paper.
Learn practical feedback strategies to help you:
Promote student success with feedforward, or pre-emptive feedback
Transform students into active consumers of online feedback with one-to-many presentation
Help students better understand criteria through peer-to-peer discussion
Enhance student engagement through multimedia online feedback
Learning Goals
Following Bloom's Taxonomy of critical thinking, this session will guide you from comprehension through application to synthesis. After participating in this seminar, you'll be able to:
Identify technologies to help you incorporate feedback banks into your online teaching
Employ multimedia feedback for online courses
Formulate one-to-many feedback strategies
Design feedforward feedback strategies
Topics Covered
Feedback is more than a polite word for grading. It's a key element in the learning process, and it's essential while teaching online.
To be effective, online grading and feedback needs to be high quality and something students use.
You'll learn four dynamic feedback strategies to help you connect with your students:
Feedforward: Providing students with the resources they need to reach learning objectives, when making the assignment
One-to-many: Streamlining generalized online feedback and delivering it to all students
Peer-to-peer: Harnessing the power of student communication to support online teaching goals
Multimedia: Engaging students with different learning styles and enhancing discussions through audio, animation, video, and screen capture
Takeaways
To help you implement these feedback strategies, you'll also receive:
Sample documents
Checklists
Discussion guides
Lists of additional resources, including free software to support peer-to-peer online feedback and development of multimedia resources
Audience
Does this sound familiar?
You take online teaching seriously and put conscientious effort into online feedback, only to find students ignoring your comments to focus on grading.
If this scenario is frustratingly familiar, How Can I Enhance the Impact of Feedback in Online Classes? is for you, whether you're experienced or a newcomer to online teaching. It's suitable for intermediate and entry-level audiences, and applies to instructors working in public and private institutions.
It's also perfect for educators with jam-packed schedules. Like all Magna 20-Minute Mentors, this is a concise and content-rich seminar, by and for busy professionals. This session will not only help you improve your online feedback, it will also help you save time, by showing you how to provide proactive and streamlined feedback that gets students attention.
Product Code: QM13AA
Campus Access License
With the purchase of the optional Campus Access License, registrants are granted a license to download the program contents to a password-protected network, server, or website for additional staff use. You will receive information on downloading the contents of the program within 3-5 business days after payment has been received by Magna.
Group Subscription Options
Assessment, Grading, and Feedback, Blended and Flipped Learning, Course Delivery and Instruction, Course Design and Preparation, Department and Program Evaluation and Assessment, Digital Library, Faculty, Faculty Support, Group Subscription, Institutional Culture, Leadership, Legal Concerns, Monday Morning Mentor, Online Assessment, Grading, and Feedback, Online Course Delivery and Instruction, Online Course Design and Preparation, Online Program Evaluation and Assessment, Online Program Strategy, Personal and Professional Development for Academic Leaders, Specific Student Populations, Student Engagement, Supporting Online Faculty, Teaching Strategies

$

999.00

Campus Safety, Compliance, Department and Program Evaluation and Assessment, Digital Library, Equity, Inclusion, and Diversity, Faculty Support, Group Subscription, Institutional Assessment, Institutional Culture, Leadership, Leadership, Online Program Evaluation and Assessment, Online Program Strategy, Personal and Professional Development for Academic Leaders, Regulatory Compliance, Risk Management, Strategic Planning, Student Support, Supporting Online Faculty, Title IX Clery and VAWA

From:

$

1,297.00

for 1 year