How Can I Ensure Academic Honesty in My Online Assessments?
This program offers a realistic and practical alternative to the ever-escalating cheating wars that consume so much college and university resources in prosecuting dishonest academic conduct. Implementing the strategies in this presentation can greatly reduce the hassle for instructors and student-support staff of having to go through the paperwork, process, and frustration of responding to academic dishonesty.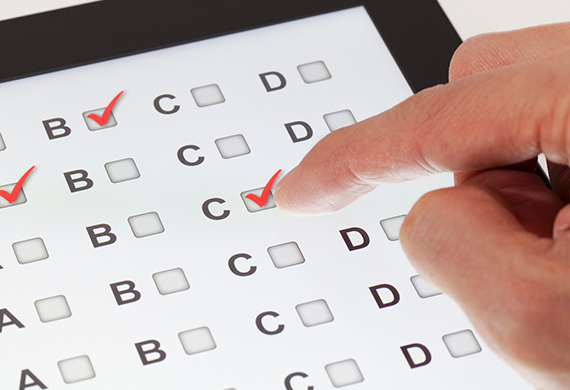 How Can I Ensure Academic Honesty in My Online Assessments?
Academic integrity is not about catching cheaters, no matter how much faculty may have heard this message. It's about setting clear expectations and reducing the temptation to cheat in the first place. Tobin shares academic-integrity strategies that faculty can apply to tests, quizzes, and assignments in as little as 20 minutes, and assists faculty in determining where to focus efforts and where to safely stop paying attention to dishonest practices (and feel okay about it, too). Learn how to turn down the student impulse to act dishonestly through the implementation of some simple but powerful practices based in psychology and neuroscience.
Purchase the How Can I Ensure Academic Honesty in My Online Assessments? 20-Minute Mentor program, presented by Thomas Tobin, PhD. In this 20-minute session, you'll learn the skills to design learning interactions that elicit authentic learning responses from students while maintaining academic rigor and high.
Learning Goals
After this program, participants will be able to:
Design tests and quizzes to elicit honest responses from students
Create assignments that minimize the temptation for learners to act dishonestly
Apply principles of positive psychology and neuroscience to create a climate of academic honesty for individual assessments
Topics Covered
Why students cheat
Offering students practice to eliminate situation-pressures to cheat
Using models to outline expectations
Offering students clear expectations
Designing assessments for academic honesty
Positive psychology strategies that encourage honesty
Neuroscience and academic honesty
Audience
This program will benefit:
Professors
Faculty
Associate Professors
Assistant Professors
Assistant Professors
Adjunct Professors
Instructors
Teaching Professors
Transfer Professors
Product Code: PM19AA
Campus Access License
With the purchase of the optional Campus Access License, registrants are granted a license to download the program contents to a password-protected network, server, or website for additional staff use. You will receive information on downloading the contents of the program within 3-5 business days after payment has been received by Magna.
Group Subscription Options
Assessment, Grading, and Feedback, Blended and Flipped Learning, Course Delivery and Instruction, Course Design and Preparation, Department and Program Evaluation and Assessment, Digital Library, Faculty, Faculty Support, Group Subscription, Institutional Culture, Leadership, Legal Concerns, Monday Morning Mentor, Online Assessment, Grading, and Feedback, Online Course Delivery and Instruction, Online Course Design and Preparation, Online Program Evaluation and Assessment, Online Program Strategy, Personal and Professional Development for Academic Leaders, Specific Student Populations, Student Engagement, Supporting Online Faculty, Teaching Strategies

$

999.00

Campus Safety, Compliance, Department and Program Evaluation and Assessment, Digital Library, Equity, Inclusion, and Diversity, Faculty Support, Group Subscription, Institutional Assessment, Institutional Culture, Leadership, Leadership, Online Program Evaluation and Assessment, Online Program Strategy, Personal and Professional Development for Academic Leaders, Regulatory Compliance, Risk Management, Strategic Planning, Student Support, Supporting Online Faculty, Title IX Clery and VAWA

From:

$

1,297.00

for 1 year