How Can I Teach with Confidence in the Hyflex Classroom?
For faculty who must teach hyflex sessions, this 20-Minute Mentor delivers specific and creative engagement tactics to enhance engagement in each setting to bring the entire class together in achieving academic success.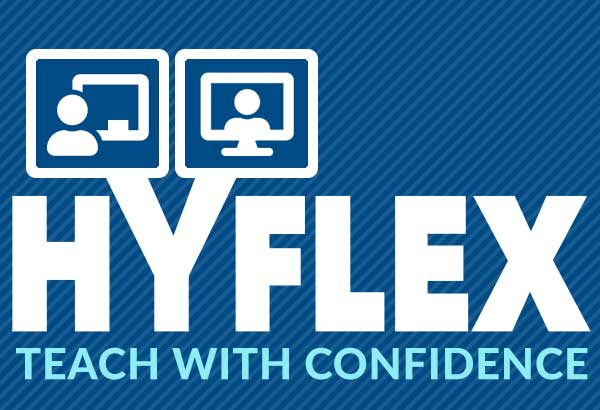 How Can I Teach with Confidence in the Hyflex Classroom?
Simultaneously teaching students in person and remotely can feel like pedagogical juggling. It's easy to see why this is one of the key challenges educators find with hyflex teaching. Ensuring that students in both contexts are engaged and learning actively requires a multitude of tactics, techniques, and tools in order to achieve student success. But where do you start?
This 20-Minute Mentor explores how you can set yourself up for hyflex success. You'll dive into strategies for organizing class time to engage students wherever they are, active learning approaches that work for hyflex learning, and a set of resources that help bridge the gap between those in the room and those far away.
Learning Goals
After viewing this Magna 20-Minute Mentor, participants will be able to:
Discover new ways to make the most of hyflex teaching situations
Explore creative techniques for teaching in engaging ways in hyflex formats
Gain new ideas about tools and tactics that can help overcome hyflex teaching challenges
Topics Covered
The challenges of hyflex teaching, from juggling multiple roles to simultaneously maintaining supportive contact with distinct groups of students
The benefits of hyflex teaching for student flexibility and agency
Tactics and tools for effective hyflex teaching
Audience
This program will benefit:
Faculty
Instructional Designers
Educational Developers
Product Code: PM22BA
Campus Access License
With the purchase of the optional Campus Access License, registrants are granted a license to download the program contents to a password-protected network, server, or website for additional staff use. You will receive information on downloading the contents of the program within 3-5 business days after payment has been received by Magna.
Group Subscription Options
Assessment, Grading, and Feedback, Blended and Flipped Learning, Course Delivery and Instruction, Course Design and Preparation, Department and Program Evaluation and Assessment, Digital Library, Faculty, Faculty Support, Group Subscription, Institutional Culture, Leadership, Legal Concerns, Monday Morning Mentor, Online Assessment, Grading, and Feedback, Online Course Delivery and Instruction, Online Course Design and Preparation, Online Program Evaluation and Assessment, Online Program Strategy, Personal and Professional Development for Academic Leaders, Specific Student Populations, Student Engagement, Supporting Online Faculty, Teaching Strategies

$

999.00

Campus Safety, Compliance, Department and Program Evaluation and Assessment, Digital Library, Equity, Inclusion, and Diversity, Faculty Support, Group Subscription, Institutional Assessment, Institutional Culture, Leadership, Leadership, Online Program Evaluation and Assessment, Online Program Strategy, Personal and Professional Development for Academic Leaders, Regulatory Compliance, Risk Management, Strategic Planning, Student Support, Supporting Online Faculty, Title IX Clery and VAWA

From:

$

1,297.00

for 1 year