How Can Reframing Problems Lead to Swift Solutions?
Transform complex problems into efficient and innovative solutions through the method of reframing, all in just 20 minutes.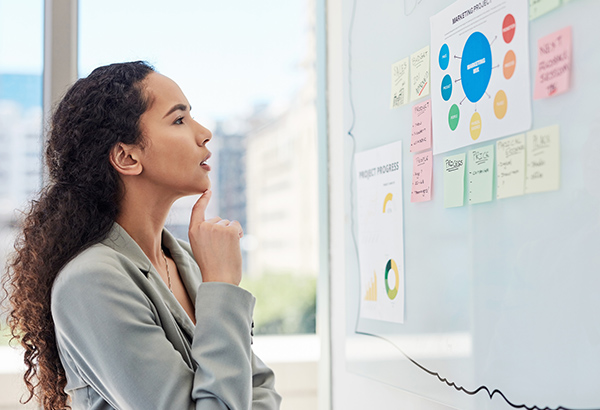 How Can Reframing Problems Lead to Swift Solutions?
In the face of complex problems, we often resort to simplifying them through initial assumptions about their issues, root causes, consequences, and the surrounding environment. While this simplification can make problems seem more manageable, it frequently leads to inefficient solutions. Tackling complex issues can be a daunting task, and without the right problem-solving tools, it can become an exhausting endeavor.
Our concise Magna 20-Minute Mentor, presented by Patrick Farrell, PhD, shows how to overcome this. In just 20 minutes, you will dive into the action of reframing problems, a process that involves redefining what progress and success truly mean, pinpointing and challenging assumptions that restrict potential solutions, and adopting a fresh perspective to reevaluate the core issue and identify a broader range of viable solutions. By the end of this session, you will be empowered to seamlessly incorporate the reframing process into your problem-solving repertoire, paving the way for more effective and innovative solutions to various issues and challenges.
Learning Goals
After viewing this Magna 20-Minute Mentor, participants will be able to:
Understand the concept of reframing and the possible benefits
Identify the key elements of a reframing effort
Implement the reframing process in their daily work
Topics Covered
Defining reframing and explaining why it can be useful
How to reframe by rethinking success and process and determining what to change
Audience
This program will benefit:
Deans
Department or Program Chairs
Product Code: OM23KD
Campus Access License
With the purchase of the optional Campus Access License, registrants are granted a license to download the program contents to a password-protected network, server, or website for additional staff use. You will receive information on downloading the contents of the program within 3-5 business days after payment has been received by Magna.
Group Subscription Options
Assessment, Grading, and Feedback, Blended and Flipped Learning, Course Delivery and Instruction, Course Design and Preparation, Department and Program Evaluation and Assessment, Digital Library, Faculty, Faculty Support, Group Subscription, Institutional Culture, Leadership, Legal Concerns, Monday Morning Mentor, Online Assessment, Grading, and Feedback, Online Course Delivery and Instruction, Online Course Design and Preparation, Online Program Evaluation and Assessment, Online Program Strategy, Personal and Professional Development for Academic Leaders, Specific Student Populations, Student Engagement, Supporting Online Faculty, Teaching Strategies

$

999.00

Campus Safety, Compliance, Department and Program Evaluation and Assessment, Digital Library, Equity, Inclusion, and Diversity, Faculty Support, Group Subscription, Institutional Assessment, Institutional Culture, Leadership, Leadership, Online Program Evaluation and Assessment, Online Program Strategy, Personal and Professional Development for Academic Leaders, Regulatory Compliance, Risk Management, Strategic Planning, Student Support, Supporting Online Faculty, Title IX Clery and VAWA

From:

$

1,297.00

for 1 year