How Do I Release My Students' Natural Zest and Curiosity for Better Learning?
Gain multiple strategies for spurring student curiosity natural zest for learning on a day-to-day basis as well as throughout the course. Explore surprising but practical ways to connect with students and get their feedback and incorporate it in your teaching methodology.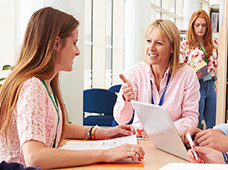 How Do I Release My Students' Natural Zest and Curiosity for Better Learning?
Studies have shown that students who are deeply interested in their coursework perform better academically. Their brains make more connections, their learning becomes more effective, and they care more about the work. With the right techniques, a teacher can unlock a students natural enthusiasm for a rewarding educational experience.
This program, How Do I Release My Students' Natural Zest and Curiosity for Better Learning?, defines the concepts of zest, curiosity, and interest, how they work together in the classroom, and what teachers can do to unleash students abilities.
Benefits
Firing up students to care more deeply about their coursework is a primary goal of teaching. With the strategies that you'll discover in this video, you'll get surprisingly simple but effective methods to get students to pay greater attention and work harder at mastering the material.
After viewing this video, you will:
Make the course material relevant and timely to your students
See how your speaking and gestures can influence student engagement
Get students to think about course material inside and outside class
Add practical applied assignments to drive enthusiasm
Topics Covered
Acquiring a clear understanding of the meaning and power of zest, curiosity, and interest is just the first part of How Do I Release My Students' Natural Zest and Curiosity for Better Learning?
After seeing how these concepts affect student performance, viewers of this video will be able to:
Make students feel more positive and energized
Gain strategies for spurring student curiosity on a daily basis
Use unanswered questions to frame classroom discussions
Get techniques for increasing curiosity throughout the course
Discover questions that get students involved in the material
Turn the course into a collaborative exercise while still maintaining teacher control
Purchase
The strategies in this video can be used in almost any kind of course in any academic department. Applying these ready-to-go actionable ideas can help you turn your students into lifelong learners. Buy your video now.
Sparking and nurturing student curiosity and zest can become an unexpectedly fulfilling activity for teachers that will result in a scintillating classroom experience for both parties. Learn these techniques when you buy this video.
Product Code: PM16HA
Campus Access License
With the purchase of the optional Campus Access License, registrants are granted a license to download the program contents to a password-protected network, server, or website for additional staff use. You will receive information on downloading the contents of the program within 3-5 business days after payment has been received by Magna.
Group Subscription Options
Assessment, Grading, and Feedback, Blended and Flipped Learning, Course Delivery and Instruction, Course Design and Preparation, Department and Program Evaluation and Assessment, Digital Library, Faculty, Faculty Support, Group Subscription, Institutional Culture, Leadership, Legal Concerns, Monday Morning Mentor, Online Assessment, Grading, and Feedback, Online Course Delivery and Instruction, Online Course Design and Preparation, Online Program Evaluation and Assessment, Online Program Strategy, Personal and Professional Development for Academic Leaders, Specific Student Populations, Student Engagement, Supporting Online Faculty, Teaching Strategies

$

999.00

Campus Safety, Compliance, Department and Program Evaluation and Assessment, Digital Library, Equity, Inclusion, and Diversity, Faculty Support, Group Subscription, Institutional Assessment, Institutional Culture, Leadership, Leadership, Online Program Evaluation and Assessment, Online Program Strategy, Personal and Professional Development for Academic Leaders, Regulatory Compliance, Risk Management, Strategic Planning, Student Support, Supporting Online Faculty, Title IX Clery and VAWA

From:

$

1,297.00

for 1 year