What Are Three Proven Ways to Manage My Online Discussion Board and Actively Engage Students?
For faculty working online who have not considered using the discussion board beyond its basic function and are trying to avoid lifeless discussion boards that fail to engage students, this 20-Minute Mentor provides three areas for faculty to improve: engagement, community, and expertise, and specific strategies for doing so.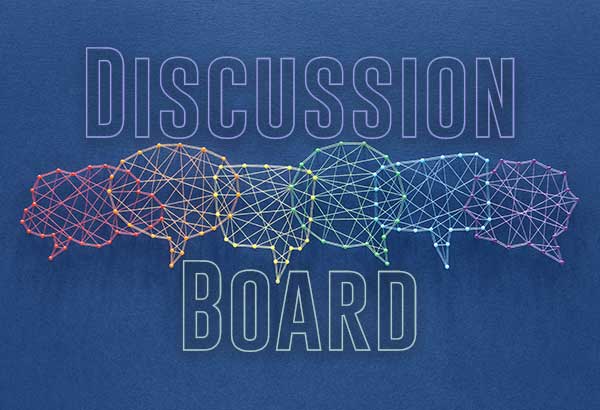 What Are Three Proven Ways to Manage My Online Discussion Board and Actively Engage Students?
The discussion board is one of the key areas in any online classroom where truly active learning can take place. But it can be a struggle for students and teachers alike to connect—both in terms of logistical day-to-day tasks, and in terms of higher levels of engagement. So how can we avoid burnout and make the discussion board a place where students are eager to go?
This 20-Minute Mentor offers three strategies to help ensure that instructors are modeling high engagement and expectations, making fruitful connections, and sharing expertise on the discussion board to ensure that the content pushes the conversation further.
Learning Goals
After viewing this Magna 20-Minute Mentor, participants will be able to:
Develop a clear strategy for modeling and tracking interactions on the discussion board
Create connections on the discussion board through explicit and implicit bridges
Learn strategies for using the discussion board to share your expertise
Topics Covered
The engagement you model: Create a schedule for workflow to ensure that you are modeling active participation and recognizing engagement opportunities
The community you foster: Make fruitful connections between students and signal the larger community of inquiry to produce deeper engagement
The expertise you share: Share your expertise in the discussion forum, not just in lecture materials, and ensure that your responses are rich with content knowledge and enriched by multimedia connections
Audience
This program will benefit:
Product Code: QM20MA
Campus Access License
With the purchase of the optional Campus Access License, registrants are granted a license to download the program contents to a password-protected network, server, or website for additional staff use. You will receive information on downloading the contents of the program within 3-5 business days after payment has been received by Magna.
Group Subscription Options
Assessment, Grading, and Feedback, Blended and Flipped Learning, Course Delivery and Instruction, Course Design and Preparation, Department and Program Evaluation and Assessment, Digital Library, Faculty, Faculty Support, Group Subscription, Institutional Culture, Leadership, Legal Concerns, Monday Morning Mentor, Online Assessment, Grading, and Feedback, Online Course Delivery and Instruction, Online Course Design and Preparation, Online Program Evaluation and Assessment, Online Program Strategy, Personal and Professional Development for Academic Leaders, Specific Student Populations, Student Engagement, Supporting Online Faculty, Teaching Strategies

$

999.00

Campus Safety, Compliance, Department and Program Evaluation and Assessment, Digital Library, Equity, Inclusion, and Diversity, Faculty Support, Group Subscription, Institutional Assessment, Institutional Culture, Leadership, Leadership, Online Program Evaluation and Assessment, Online Program Strategy, Personal and Professional Development for Academic Leaders, Regulatory Compliance, Risk Management, Strategic Planning, Student Support, Supporting Online Faculty, Title IX Clery and VAWA

From:

$

1,297.00

for 1 year