What Are Best Practices for Hyflex Course Design and Delivery?
For faculty not understanding or being overwhelmed with hyflex instruction, this 20-Minute Mentor provides clarity on steps to take in both planning and instructing a hyflex course as well as successful tips for engaging students in hyflex learning.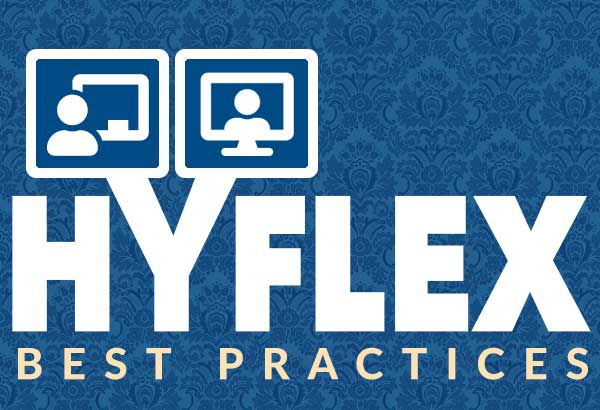 What Are Best Practices for Hyflex Course Design and Delivery?
Hyflex teaching—sometimes referred to as hybrid-flexible teaching—is an instructional method that combines in-person and virtual learning. Following the transition to online education at the start of the COVID-19 pandemic, instructors and students, at institutions small and large, have learned a great deal about their respective teaching and learning preferences. Educators can be challenged to both create and deliver content in this format because it can seem time consuming or overwhelming to work in two formats at once.
This 20-Minute Mentor helps educators overcome these challenges by detailing the best practices to consider when teaching a hylfex course. You'll start with the specifics of hyflex teaching and its differentiating features and conclude with the presenter delivering personal insights, tips, and best practices for course design and delivery in this teaching format.
Learning Goals
After viewing this Magna 20-Minute Mentor, participants will be able to:
Define hyflex instruction
Identify the challenges and several solutions to hyflex course design and delivery
Implement five best practices for increasing student engagement in hyflex courses
Topics Covered
Defining and differentiating hyflex instruction
Course design (including how to overcome challenges in this format)
Course delivery (including anticipating and addressing student needs)
Tips to maximize student learning and engagement
Audience
This program will benefit:
Faculty
Instructional Designers
Accessibility Staff
DEI Staff
Product Code: PM22CA
Campus Access License
With the purchase of the optional Campus Access License, registrants are granted a license to download the program contents to a password-protected network, server, or website for additional staff use. You will receive information on downloading the contents of the program within 3-5 business days after payment has been received by Magna.
Group Subscription Options
Assessment, Grading, and Feedback, Blended and Flipped Learning, Course Delivery and Instruction, Course Design and Preparation, Department and Program Evaluation and Assessment, Digital Library, Faculty, Faculty Support, Group Subscription, Institutional Culture, Leadership, Legal Concerns, Monday Morning Mentor, Online Assessment, Grading, and Feedback, Online Course Delivery and Instruction, Online Course Design and Preparation, Online Program Evaluation and Assessment, Online Program Strategy, Personal and Professional Development for Academic Leaders, Specific Student Populations, Student Engagement, Supporting Online Faculty, Teaching Strategies

$

999.00

Campus Safety, Compliance, Department and Program Evaluation and Assessment, Digital Library, Equity, Inclusion, and Diversity, Faculty Support, Group Subscription, Institutional Assessment, Institutional Culture, Leadership, Leadership, Online Program Evaluation and Assessment, Online Program Strategy, Personal and Professional Development for Academic Leaders, Regulatory Compliance, Risk Management, Strategic Planning, Student Support, Supporting Online Faculty, Title IX Clery and VAWA

From:

$

1,297.00

for 1 year