What Is Ungrading and How Can It Unleash Your Students' Potential?
Get practical tips for how ungrading can be brought to any classroom and how to get started while learning how ungrading takes the pressure away from high-stakes exams and instead creates a pathway for learning throughout the semester based on performance, feedback, and demonstrated growth.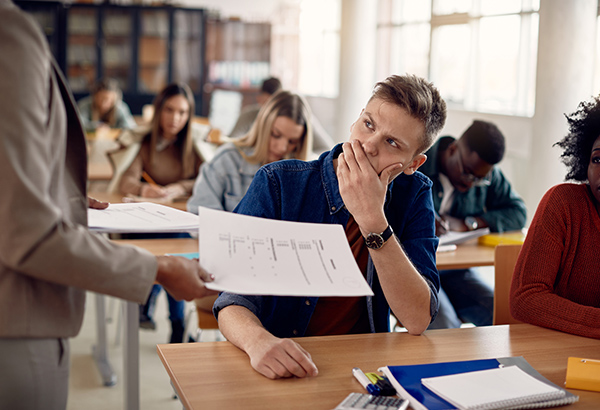 What Is Ungrading and How Can It Unleash Your Students' Potential?
The traditional grading framework can be flawed—in fact research shows that it does not incentivize student learning. Fortunately, regardless of the type of class being taught, ungrading is a solution for everyone, allowing students to better close the loop on their learning. But what is ungrading?
This 20-Minute Mentor introduces the concept of ungrading and provides some big picture examples of how ungrading works in different types of courses, including STEM courses. The expert presenter will explain the problems and drawbacks of a traditional grading framework and how ungrading can overcome them. Additionally, the presenter will demonstrate strategies for implementing ungrading in a classroom including ways to get students onboard, how to incentivize students, and how to determine summary grades at the end of the semester.
Learning Goals
After viewing this Magna 20-Minute Mentor, participants will be able to:
Describe certain issues with a traditional grading framework
Define ungrading and its benefits
Determine a variety of ways that ungrading may fit into a course
Topics Covered
The challenges of a traditional grading framework
The advantages of ungrading for both students and educators
How to implement ungrading in your classroom
Audience
This program will benefit:
Faculty
Instructional Designers
Product Code: PM22PA
Campus Access License
With the purchase of the optional Campus Access License, registrants are granted a license to download the program contents to a password-protected network, server, or website for additional staff use. You will receive information on downloading the contents of the program within 3-5 business days after payment has been received by Magna.
Group Subscription Options
Assessment, Grading, and Feedback, Blended and Flipped Learning, Course Delivery and Instruction, Course Design and Preparation, Department and Program Evaluation and Assessment, Digital Library, Faculty, Faculty Support, Group Subscription, Institutional Culture, Leadership, Legal Concerns, Monday Morning Mentor, Online Assessment, Grading, and Feedback, Online Course Delivery and Instruction, Online Course Design and Preparation, Online Program Evaluation and Assessment, Online Program Strategy, Personal and Professional Development for Academic Leaders, Specific Student Populations, Student Engagement, Supporting Online Faculty, Teaching Strategies

$

999.00

Campus Safety, Compliance, Department and Program Evaluation and Assessment, Digital Library, Equity, Inclusion, and Diversity, Faculty Support, Group Subscription, Institutional Assessment, Institutional Culture, Leadership, Leadership, Online Program Evaluation and Assessment, Online Program Strategy, Personal and Professional Development for Academic Leaders, Regulatory Compliance, Risk Management, Strategic Planning, Student Support, Supporting Online Faculty, Title IX Clery and VAWA

From:

$

1,297.00

for 1 year