Become an even better educator and help your students excel. With Magna Digital Library, stay ahead of the latest trends and developments in teaching, learning, and leadership practices to remind yourself why you became an educator in the first place. This on-demand streaming service helps you easily, quickly, and effectively learn and implement immediate strategies from the brightest minds in higher education.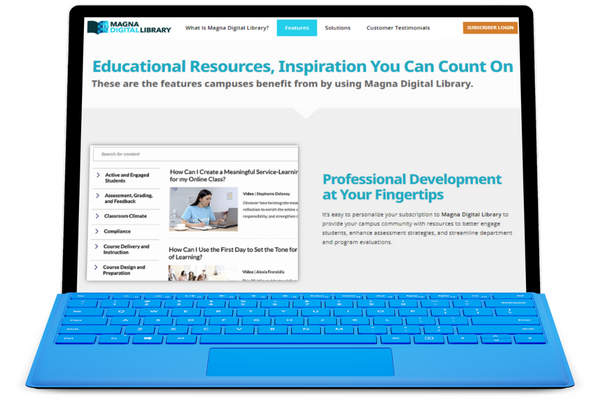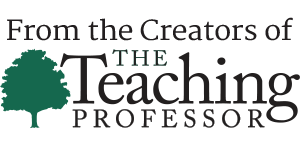 How Do You Want to Improve and Enrich Your Career?
Did you ever have that 'aha!' moment where you saw a student 'get it'? Those moments probably don't happen frequently enough, but they remind you why you became an educator in the first place. What if you could restore that feeling every time you interact with your students?
Magna Digital Library could be the spark that you need right now. Learn the keys to unlock the potential of every student in your class. Magna's state-of-the-art digital library is filled with on-demand programs from the best and brightest educators covering practically every teaching and leadership topic you will ever need. Better yet, these experts give you hands-on learning you can use immediately.
Magna Digital Library has more than 400 'aha!' moments ready for you to put into place. Now is the time you get the resources you deserve. You're not only investing in yourself, but in your students and their futures!
How Will Magna Digital Library Benefit Me?
Learn actionable ideas and proven strategies on the most current topics affecting higher education from today's most brilliant colleagues
Meet the new challenges of higher education to do your best work
Stay ahead of the latest trends and developments in teaching, learning, and leadership practices
Easily, quickly, and effectively tailor your professional development to your exact specific needs
Customize your professional development with the topics you want to learn about in a convenient, on-demand streaming service
Watch whenever and wherever you want
Save time. Be inspired. Become empowered to make a meaningful difference in your position.

What Does An Individual Subscription to Magna Digital Library Include?
Access to more than 400 professional development programs for all levels of faculty and staff experience
24/7 access from any device
Content by top educational experts selected by vigorous vetting process
Supporting materials
Transcript for each program
Featured Program of the Month
Certificate of completion for each program
"Always professional and current! The best by far!"
Johanna Armstrong
Niagara Community College
"Important information that doesn't drag out. Professional development made easy!"
David R. Pearse
Tarrant County College
"One of my go-to sources for practical tips and ideas in teaching and academic leadership."
Veronica Thomas
Teachers College, Columbia University
"Magna is always an amazing resource for professional development!"
Victoria Efird
South Piedmont Community College
Faculty topics include:
Active and Engaged Students
Assessment, Grading, and Feedback
Blended and Flipped Learning
Classroom Climate
Classroom Management
Course Delivery and Instruction
Course Design and Preparation
Diversity, Equity, and Inclusion

Legal Concerns
Online Assessment, Grading, and Feedback
Online Course Delivery and Instruction
Online Course Design and Preparation
Online Student Engagement
Personal Development
Technology in Online Courses
Technology in the Classroom
Check out the Featured Programs for Faculty!
Leadership topics include:
Campus Safety
Department and Program Evaluation and Assessment
Diversity, Equity, and Inclusion
Faculty Support
Institutional Assessment
Institutional Culture

Leadership
Risk Management
Strategic Planning
Student Support
Compliance
Check out the Featured Programs for Academic Leaders!



---
Interested in a Group Subscription of Magna Digital Library?
Click the button to learn more about how you can provide entire campus faculty, leadership, and staff with superior resources they need with a group subscription to Magna Digital Library. Get your institution's competitive advantage now!
---
Product Code: TG00IA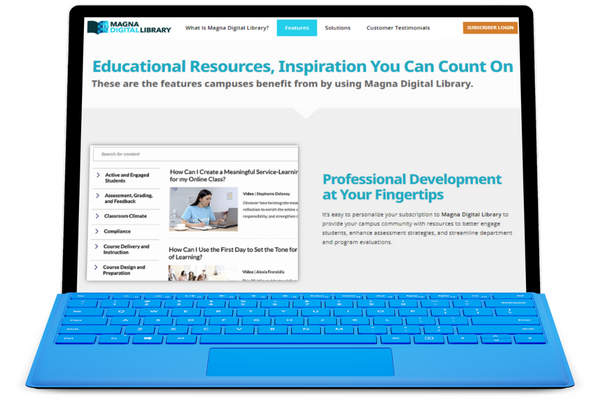 If you are not completely satisfied with your purchase, you may cancel the order within 30 days of purchase and receive a full refund.
Group Subscription Options
Assessment, Grading, and Feedback, Blended and Flipped Learning, Course Delivery and Instruction, Course Design and Preparation, Department and Program Evaluation and Assessment, Digital Library, Faculty, Faculty Support, Group Subscription, Institutional Culture, Leadership, Legal Concerns, Monday Morning Mentor, Online Assessment, Grading, and Feedback, Online Course Delivery and Instruction, Online Course Design and Preparation, Online Program Evaluation and Assessment, Online Program Strategy, Personal and Professional Development for Academic Leaders, Specific Student Populations, Student Engagement, Supporting Online Faculty, Teaching Strategies

$

999.00

Campus Safety, Compliance, Department and Program Evaluation and Assessment, Digital Library, Equity, Inclusion, and Diversity, Faculty Support, Group Subscription, Institutional Assessment, Institutional Culture, Leadership, Leadership, Online Program Evaluation and Assessment, Online Program Strategy, Personal and Professional Development for Academic Leaders, Regulatory Compliance, Risk Management, Strategic Planning, Student Support, Supporting Online Faculty, Title IX Clery and VAWA

From:

$

1,297.00

for 1 year