New Academic Leaders: Strategies for Success
A new academic leadership position brings exciting opportunities, but difficult challenges too. This course will guide you in capitalizing on your new leadership opportunity and keep your institution moving onward and upward.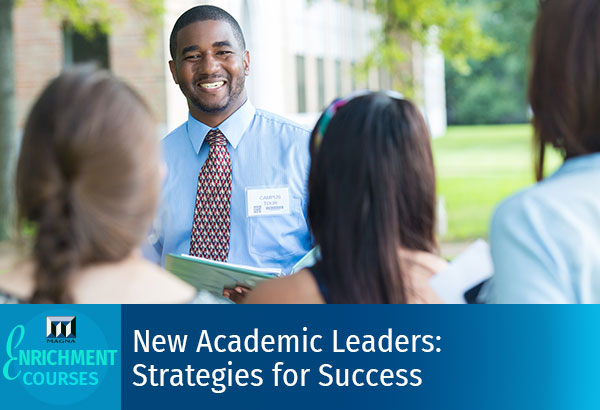 Group Enrollment Pricing

1 person

$199

2–9 people

$139 per person

10-49 people

$109 per person

50–99 people

$89 per person
Group Enrollment discounts are applied in the cart.
---
October/November Enrichment Session
October 2, 2023 – November 10, 2023
---
Are you new to leadership and asked to take on new responsibilities? If so, congratulations! Now how do you quickly learn everything you need to know about leading a team?
New Academic Leaders: Strategies for Success is designed to help newly appointed or promoted academic leaders get off to a successful start in their new position. It includes information about leadership, faculty development, faculty evaluation, and more. Often, promotions come without training and individuals are left to figure things out as they go. This 7-hour course will help you be the leader you've always wanted to be and you'll be taught by our very top leadership experts.
With New Academic Leaders: Strategies for Success, you will:
Understand how training, removing obstacles, aligning systems, and generating short-term wins can impact successful change efforts
Identify strategies to promote respectful, professional, and civil climate and behavior in their department
Learn that it is possible to design faculty development programming that is engaging, effective, and cost-contained, and that faculty will take advantage of
Be able to design and operate a productive mentoring relationship and support a mentee through the five stages of development
Learn to make coaching accessible to online faculty members and set up performance boundaries with them
Understand how to craft appropriate feedback to faculty, whether they are tenure-track, tenured, or part-time instructors.
Avoid the six biases that affect online teaching evaluation
Identify 20 strategies for institutionalizing OER and develop a strategy for institutionalizing OER at your institution
You can complete this course at your own pace and access it from virtually any device. It's convenient professional development that's equally valuable for individual learners and institutional learning communities.
The course comes with a variety of supplemental materials to support the content, including full transcripts, links to online resources, suggested readings, and handouts. You'll also find a final check on learning that leads to a certificate of completion.
Learning Goals:
At the conclusion of New Academic Leaders: Strategies for Success, participants will have gained the knowledge and insight to:
Establish and maintain mentoring relationships with faculty
Create an environment of civility, collaboration, and respect
Spearhead high-impact faculty-development
Manage OER and other forward-looking academic initiatives
Guide their academic unit successfully through change
How It Works:
Select your session date.
Prior to the start of the course, participants will receive an email with information on accessing the online course.
Access to the course runs according to your selected session date.
Participants can work through the course at their own pace. Participants can also review information in a previous unit as well as read supplemental materials and watch the accompanying videos as many times as they like within their selected session date.
Upon completion of the course, participants will take an assessment to gauge learning.
At the end of the course, participants will receive a Certificate of Completion.
What's Included:
Video programs
Assessments, including a final assessment
Transcripts of all video programs
Program slides
Supplemental readings and activities
Certificate of Completion for the course
Group Enrollment:
Discount pricing is available for multiple seats purchased at the same time.
For 10 or more seats, please contact Magna Sales at sales@magnapubs.com or call 800-433-0499 ext. 183 to receive a customized quote.
October/November Enrichment Session Product Code: OO23GD
Meet Your Presenters
Thomas Tobin, PhD
Program Area Director, University of Wisconsin-Madison
Donna Qualters
Associate Professor and Director, Tufts University
Bethanie Hansen, DMA
Faculty Director, American Public University Systems
Erik Christensen
Dean, Applied Sciences & Technologies, South Florida State College
Robert E. Cipriano, EdD
Senior Partner, Academic Training Leadership & Assessment Services
Jeffery Buller
Director, Leadership and Professional Development, Florida Atlantic University
Lynn Gillette
Provost and Vice President of Academic Affairs, Nicholls State University
Ken Alford, PhD
Professor of Church History and Doctrine, Brigham Young University
Kate Forhan
Professor Emeritus
Brian Udermann, PhD
Professor, Department of Exercise and Sports Science, University of Wisconsin-La Crosse
Jon M. Garon, JD
Professor of Law and Director, Intellectual Property, Cybersecurity, and Technology Law Program, Nova Southeastern University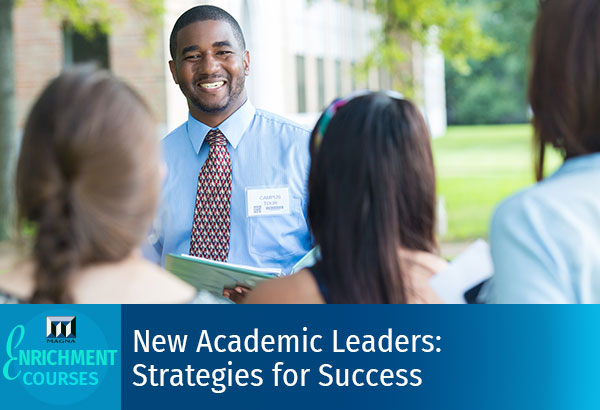 Group Enrollment Pricing

1 person

$199

2-9 people

$139 per person

10-49 people

$109 per person

50-99 people

$89 per person
Group Enrollment discounts are applied in the cart.
If you are not completely satisfied with your purchase, you may cancel the order within 30 days of purchase and receive a full refund. Please contact Magna Customer Service via email at support@magnapubs.com to have your order reviewed.
Group Subscription Options
Campus Safety, Compliance, Department and Program Evaluation and Assessment, Digital Library, Equity, Inclusion, and Diversity, Faculty Support, Group Subscription, Institutional Assessment, Institutional Culture, Leadership, Leadership, Online Program Evaluation and Assessment, Online Program Strategy, Personal and Professional Development for Academic Leaders, Regulatory Compliance, Risk Management, Strategic Planning, Student Support, Supporting Online Faculty, Title IX Clery and VAWA

From:

$

1,297.00

for 1 year

Assessment, Grading, and Feedback, Blended and Flipped Learning, Course Delivery and Instruction, Course Design and Preparation, Department and Program Evaluation and Assessment, Digital Library, Faculty, Faculty Support, Group Subscription, Institutional Culture, Leadership, Legal Concerns, Monday Morning Mentor, Online Assessment, Grading, and Feedback, Online Course Delivery and Instruction, Online Course Design and Preparation, Online Program Evaluation and Assessment, Online Program Strategy, Personal and Professional Development for Academic Leaders, Specific Student Populations, Student Engagement, Supporting Online Faculty, Teaching Strategies

$

999.00