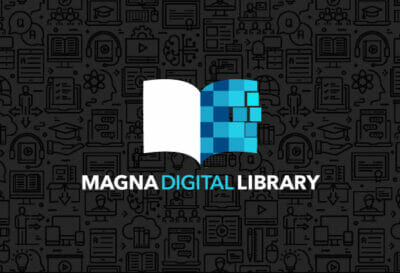 Magna Digital Library Group Subscription
Magna Digital Library is your comprehensive professional development solution. Learn from your brilliant colleagues as they dispense actionable ideas and proven strategies on the most current topics affecting higher education today. A subscription to this on-demand streaming service allows you to tailor your professional development to your exact specific needs.
The Solutions Your Team Needs
Magna Digital Library features leading educators and consultants, dispensing thought-provoking presentations that provide immediate solutions for the issues your faculty, leaders, and staff are facing right now.
Regardless if you are an educator or a leader, Magna Digital Library is designed to fit how your team  learns with:
Individual programs to fill specific learning needs
Program groups built around a specific topic area or discipline
Preselected programs that come to you on a regular schedule
A complete professional development library covering educators' needs in all topic areas
Magna Digital Library includes:
Access to more than 400 professional development programs for all levels of faculty and staff experience
24/7 access from any device
On-demand user reporting
Content by top educational experts selected by vigorous vetting process
Supporting materials
Transcript for each program
Featured Program of the Month
Certificate of completion for each program
VPAT report available upon request
View the List of Magna Digital Library Programs

Create Your Own Professional Development Program
An group subscription to Magna Digital Library provides access for your team to watch every program at one simple affordable price. With the wealth of topics available in Magna Digital Library, you can tailor learning to your team's exact professional development needs. It's convenient too – programs can be watched at home, at work, on a tablet, or even on a phone, allowing your team to pick up and leave off whenever and wherever they'd like.
Magna Digital Library is your professional development solution! It's a flexible, practical mean for you to build knowledge and improve performance. Take advantage of an extraordinary collection of educational resources! 
"Always professional and current! The best by far!"
Johanna Armstrong
Niagara Community College
"Important information that doesn't drag out. Professional development made easy!"
David R. Pearse
Tarrant County College
"One of my go-to sources for practical tips and ideas in teaching and academic leadership."
Veronica Thomas
Teachers College, Columbia University
"Magna is always an amazing resource for professional development!"
Victoria Efird
South Piedmont Community College
Faculty topics include:
Active and Engaged Students
Assessment, Grading, and Feedback
Blended and Flipped Learning
Classroom Climate
Classroom Management
Course Delivery and Instruction
Course Design and Preparation
Diversity, Equity, and Inclusion

Legal Concerns
Online Assessment, Grading, and Feedback
Online Course Delivery and Instruction
Online Course Design and Preparation
Online Student Engagement
Personal Development
Technology in Online Courses
Technology in the Classroom
Check out the Featured Programs for Faculty!
Leadership topics include:
Campus Safety
Department and Program Evaluation and Assessment
Diversity, Equity, and Inclusion
Faculty Support
Institutional Assessment
Institutional Culture

Leadership
Risk Management
Strategic Planning
Student Support
Compliance
Check out the Featured Programs for Academic Leaders!

Product Code: TG00IA
Start Your Free Trial Today