Connecting with Students in Large-Section Classes
Large classes are an unpleasant fact of life on many college campuses. The challenge of teaching hundreds of students at a time in a single, lecture-style setting can be daunting. This online seminar, presented by Dr. Anthony Sweat of Brigham Young University, will reveal practical techniques for reaching your pedagogical goals in large classes.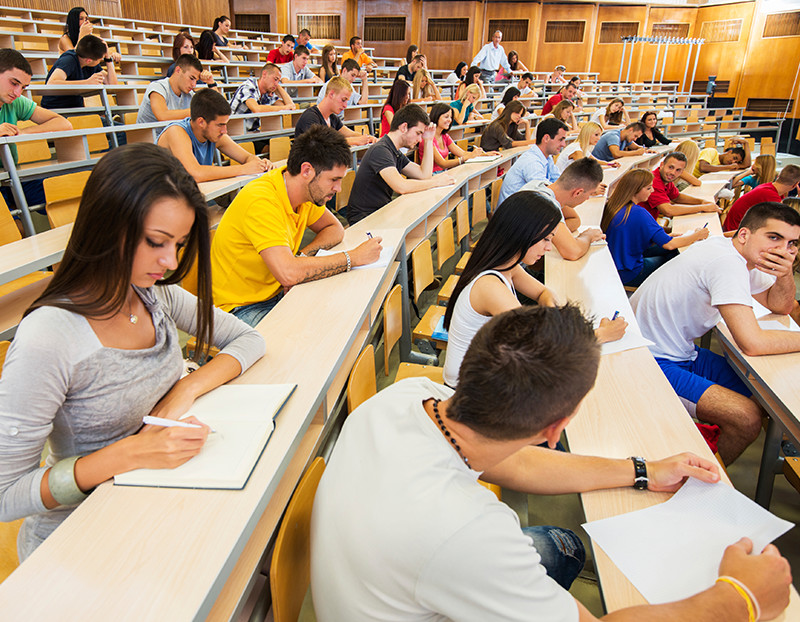 Overcome the Obstacles in Teaching Large Classes
Almost any educator will say that reaching students so that they feel connected to their instructor, to the course material, and to fellow students fosters an ideal learning environment. With the right approaches, you can attain these goals in large-section classes.
Using these techniques specifically designed for large classes, educators will more easily manage their workload while igniting student interest.
This online seminar reveals effective strategies for success that can be applied to almost any large class in any discipline. Explore how to spur in-class participation, make connections with and between students, and generate meaningful comments on assignments and assessments in large classes for a rewarding education experience.
Learning Goals
Showing faculty members new pedagogical approaches for large classes can help them manage the classroom with greater authority. Instead of feeling lost or unheard in an overflowing, auditorium-type classroom, students will also gain from these new methodologies by developing a deeper interest in their studies and better personal interactions with class members.
After viewing this online seminar, participants will be able to do the following:
Have a working knowledge of active learning in a large-class setting
Apply the Know, Feel, and Do model of active learning
Set up grading rubrics for students and teaching assistants
Provide personal, peer, and automated student feedback through creative course designs
Educators who understand how to turn their large-section classrooms into intimate learning spaces will more readily fulfill their teaching goals. And your students will walk away feeling more enriched and respected.
Topics Covered
Acquire insights and tools for breaking down barriers in large classes and connecting with your students on multiple levels. With proven strategies taken directly from the work and research of presenter Anthony Sweat, you'll discover a realistic plan for overcoming the obstacles posed by large classes. This online seminar discusses how to accomplish the following:
Spark meaningful, engaging student participation
Make your formative and summative feedback and assessments feel personal and individual
Forge strong bonds with and between students
Execute these techniques in a variety of disciplines and situations
Share these techniques with other faculty members
Audience
Faculty members who teach large-section classes and those who manage and support them will gain key advantages by watching this online seminar. It will be especially useful to the following:
Assistant, associate, and full professors of large-section courses
Graduate student teachers
Adjunct faculty
Faculty teaching in-service leaders
Administrators who oversee teaching of and learning in large-section classes
Faculty and administrators at both two- and four-year institutions
Faculty and administrators at both public and private institutions
Product Code: PC17BA
Campus Access License
With the purchase of the optional Campus Access License, registrants are granted a license to download the program contents to a password-protected network, server, or website for additional staff use. You will receive information on downloading the contents of the program within 3-5 business days after payment has been received by Magna.
Group Subscription Options
Campus Safety, Compliance, Department and Program Evaluation and Assessment, Digital Library, Equity, Inclusion, and Diversity, Faculty Support, Group Subscription, Institutional Assessment, Institutional Culture, Leadership, Leadership, Online Program Evaluation and Assessment, Online Program Strategy, Personal and Professional Development for Academic Leaders, Regulatory Compliance, Risk Management, Strategic Planning, Student Support, Supporting Online Faculty, Title IX Clery and VAWA

From:

$

1,297.00

for 1 year

Assessment, Grading, and Feedback, Blended and Flipped Learning, Course Delivery and Instruction, Course Design and Preparation, Department and Program Evaluation and Assessment, Digital Library, Faculty, Faculty Support, Group Subscription, Institutional Culture, Leadership, Legal Concerns, Monday Morning Mentor, Online Assessment, Grading, and Feedback, Online Course Delivery and Instruction, Online Course Design and Preparation, Online Program Evaluation and Assessment, Online Program Strategy, Personal and Professional Development for Academic Leaders, Specific Student Populations, Student Engagement, Supporting Online Faculty, Teaching Strategies

$

999.00