From Research to Practice: An Instructor's Guide for Implementing Trauma-Informed Pedagogy in Higher Education
This Magna Online Seminar presents the research behind the inimical effects trauma has on students' learning and performance and provides the steps to take to implement a trauma-informed learning experience where all students can succeed.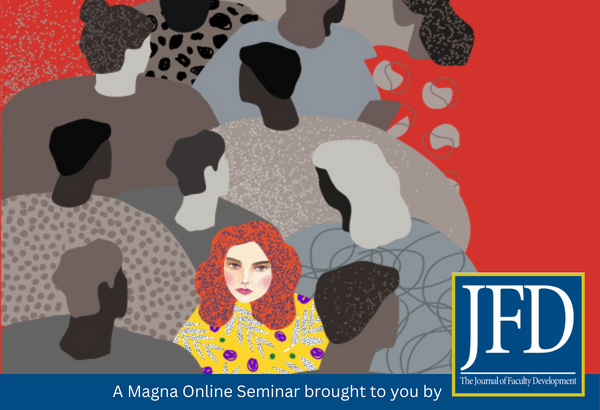 Educators and administrators in higher education are currently grappling with the effects of individual and collective trauma as it relates to college students' academic performance. A plethora of research points to the detrimental effects that trauma can have on students' learning and persistence.
In this Magna Online Seminar, your presenters elaborate on their research recently published in the Journal of Faculty Development and will outline common trauma terms and effects on learning that would be useful for educators to know, along with:
a brief literature review,
trauma-informed conceptual framework,
classroom applications,
misconceptions and barriers to implementing trauma-informed practices,
and future directions for research.
Additionally, the presenters have created a practical checklist of pedagogical suggestions to guide instructors on implementing a trauma-informed learning experience for their own classrooms.
Why You Don't Want to Miss This!
Moderated panel format provided unique interaction with and access to the researchers
Live participants were able to ask direct questions and get answers for the personalized guidance you need
This online seminar brings the published research to life and provide access to the researchers in an interactive format to explore how you can apply this research yourself
What are the learning goals?
Upon completion of this seminar, you'll be able to:
Understand the impact trauma has on students' learning and performance
Implement a trauma-informed learning experience using the provided methods
Recognize the future direction on this type of research
Who should attend?
Directors of Centers for Teaching and Learning
Faculty or Educational Developers
Administrative Leaders
Faculty
Why This Matters
Higher education institutions must adapt their pedagogical approaches to facilitate a student's development, growth, and pursuit of higher education. This is especially true for students who have experienced high levels of trauma prior to entry into postsecondary education. Educators must become aware of the pervasiveness of trauma in student populations and create improved strategies and considerations for educating these students.
This is your opportunity to take away a research-based framework with tested results and implement it immediately. Don't miss your chance to create a better and safer learning environment where all students can succeed academically.
What's included?
Your seminar registration includes the following:
12-month on-demand access
Written transcript
100% satisfaction guarantee
There is no limit to how many times the seminar is accessed while available on-demand.
Product Code: OC23ED
Campus Access License
With the purchase of the optional Campus Access License, registrants are granted a license to download the program contents to a password-protected network, server, or website for additional staff use. You will receive information on downloading the contents of the program within 3-5 business days after payment has been received by Magna.
Group Subscription Options
Campus Safety, Compliance, Department and Program Evaluation and Assessment, Digital Library, Equity, Inclusion, and Diversity, Faculty Support, Group Subscription, Institutional Assessment, Institutional Culture, Leadership, Leadership, Online Program Evaluation and Assessment, Online Program Strategy, Personal and Professional Development for Academic Leaders, Regulatory Compliance, Risk Management, Strategic Planning, Student Support, Supporting Online Faculty, Title IX Clery and VAWA

From:

$

1,297.00

for 1 year

Assessment, Grading, and Feedback, Blended and Flipped Learning, Course Delivery and Instruction, Course Design and Preparation, Department and Program Evaluation and Assessment, Digital Library, Faculty, Faculty Support, Group Subscription, Institutional Culture, Leadership, Legal Concerns, Monday Morning Mentor, Online Assessment, Grading, and Feedback, Online Course Delivery and Instruction, Online Course Design and Preparation, Online Program Evaluation and Assessment, Online Program Strategy, Personal and Professional Development for Academic Leaders, Specific Student Populations, Student Engagement, Supporting Online Faculty, Teaching Strategies

$

999.00