The Teaching Professor
The Teaching Professor is the lively, highly informative newsletter with a singular purpose: to provide ideas and insight to educators who are passionate about teaching. A source of cutting-edge information and inspiration for more than 10,000 educators at universities and colleges worldwide.
1 Year Subscription: $149/year
Monthly Subscription: $19/month
New 5-10 Person Group Online Subscriptions are also available. For unlimited Group Subscriptions, please contact our Sales department at (608) 227-8183 or email sales@magnapubs.com.
Current Subscribers – Log In to View Your Subscription
The Essential Read When Teaching Is Your Passion
For more than 30 years, The Teaching Professor has been a trusted guide for tens of thousands of educators who are committed to creating a better learning environment.
The new Teaching Professor, launched August 2018, is an annual membership that reflects the changing needs of today's college faculty and the students they teach. This new fully online version includes everything readers have loved about The Teaching Professor for so many years—great articles and practical, evidence-based insights—but it also contains many new features and formats that will make it an even more indispensable resource.
A Message from the Editor—Maryellen Weimer, PhD:
Membership Benefits
12-month membership site access
Three inspiring and insightful articles/resources each week (12 per month)
One professional development video program per month offering practical advice and insights about teaching and learning
Full access to The Teaching Professor archives (1000+ articles!), giving you instant access to teaching answers when you need it
Weekly column from Maryellen Weimer, aptly titled For Those Who Teach
A robust and interactive web experience with enhanced features and formats, expanded coverage areas, downloadable resources, and intuitive site navigation
Learning Topics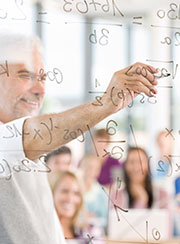 Each week subscribers receive thought-provoking and actionable advice on a wealth of critical topics, including:
Improving student learning
Designing effective activities and assignments
Energizing and re-inspiring yourself in mid-career
Promoting academic integrity
Providing effective feedback
Leveraging technology
Getting students to study
---
"It gives me new ideas, reinforces current (good) strategies, challenges current strategies, and keeps me focused on the real issues. – Professor
---
Memberships
The Teaching Professor is better than ever and will quickly become your go-to resource for inspiration and advice on better teaching and learning, regardless of discipline or course format. The content covers both face-to-face and online methods, so no matter where you teach, The Teaching Professor will help you make informed decisions about your teaching practice.
12-month memberships are tailored to faculty of all experience levels who share a passion for teaching and learning. It is specifically relevant to:
Teaching professors
Online instructors
Faculty developers
Instructional designers
Department chairs
New content is added each month, so don't delay in joining the ranks of the thousands of educators who have benefited from The Teaching Professor. Become a member today!
The Teaching Professor (ISSN 2578-9899) is published by Magna Publications Inc., 2718 Dryden Drive, Madison, WI 53704.
Group Memberships
The more subscribers in the Group Online Subscription, the more cost-effective for your institution. For custom pricing and to purchase a Group Online Subscription today, contact Kevin Patrick at (608) 227-8183 or email sales@magnapubs.com.
Current Subscribers: