Collaborative Learning Approaches that Support Neurodiverse Students
Explore practical strategies to plan group tasks so that our neurodiverse learners can successfully contribute to collaborative learning activities.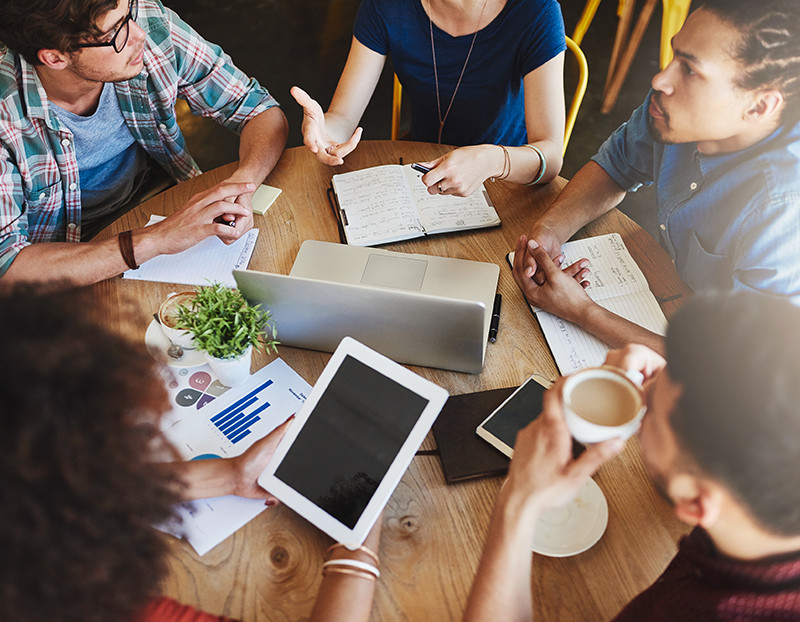 Many of today's students will come to campus with numerous forms of mental, emotional, and social challenges.
In any given class, you may have students with PTSD, mental disorders, learning disabilities, or previous emotional trauma. Students with these characteristics, also referred to as neurodiverse students, are often quiet and introverted in collaborative settings, thus impacting their classroom performance.
What strategies can you leverage to establish a classroom environment where ALL students feel comfortable contributing to collaborative learning activities?
You'll explore ways of applying Universal Design for Learning (UDL) principles to collaborative learning tasks to support neurodiverse students who find difficulty thriving in group learning situations.
This seminar goes beyond the simple how-to of implementing group work and delves into the different challenges you face when implementing collaborative learning experiences and how you can create success for all kinds of students with all kinds of conditions and backgrounds.
What are the learning goals?
Upon completion of this seminar, you'll be able to:
Identify infrequently acknowledged challenges that lead to perceived freeloader behavior in group work
Develop support mechanisms that empower socially challenged students to succeed in collaborative learning tasks
Apply UDL principles to design collaborative learning tasks that promote optimal success for all students
Here's what we'll cover!
Conditions and challenges, and possible causes, that make it hard for students to contribute to tasks that require social interaction
Design solutions that address emotional and mental challenges
Scaffolding group communication and group process
Allowing time for team stages to occur
Building in self-reflection opportunities
Who should attend?
This seminar will benefit:
Faculty
Instructional Designers
Faculty Developers
Why you don't want to miss this!
By participating in this seminar, you'll be able to increase effectiveness of group activities and decrease the headaches and problems experienced when you're not able to adequately anticipate and plan for students mental, emotional, and social challenges.
Students ability to learn in groups affects their rates of success as learners and as professionals in the workplace. Through the suggestions and strategies offered in this seminar, you'll be able to enhance comprehension of course content and allow students, no matter their challenges or differences, to think creatively and critically, to become more flexible and independent in their learning, and to learn with one another in authentic learning experiences that are socially, intellectually, and emotionally engaging. Register today!
What's included?
Your seminar registration includes the following:
On-demand access
Downloadable PowerPoint presentations from the speaker
Written transcript
Supplemental materials
100% satisfaction guarantee
There is no limit to how many times the seminar is accessed while available on-demand.
Educational Development Resources for Your Entire Campus
Whether you are an educator or a leader at your educational institution or organization, Magna has resources for how you want to learn:
Individual programs to fill specific learning needs
Preselected programs that come to you on a regular schedule
Deep dive courses for complete immersion to master skills in a specific topic area
Program groups built around a specific topic area or discipline
A complete professional development library covering educator's needs in all topic areas
Want to learn more? Contact sales@magnapubs.com for a free consultation.
Product Code: PC18KA
Campus Access License
With the purchase of the optional Campus Access License, registrants are granted a license to download the program contents to a password-protected network, server, or website for additional staff use. You will receive information on downloading the contents of the program within 3-5 business days after payment has been received by Magna.
Group Subscription Options
Campus Safety, Compliance, Department and Program Evaluation and Assessment, Digital Library, Equity, Inclusion, and Diversity, Faculty Support, Group Subscription, Institutional Assessment, Institutional Culture, Leadership, Leadership, Online Program Evaluation and Assessment, Online Program Strategy, Personal and Professional Development for Academic Leaders, Regulatory Compliance, Risk Management, Strategic Planning, Student Support, Supporting Online Faculty, Title IX Clery and VAWA

From:

$

1,297.00

for 1 year

Assessment, Grading, and Feedback, Blended and Flipped Learning, Course Delivery and Instruction, Course Design and Preparation, Department and Program Evaluation and Assessment, Digital Library, Faculty, Faculty Support, Group Subscription, Institutional Culture, Leadership, Legal Concerns, Monday Morning Mentor, Online Assessment, Grading, and Feedback, Online Course Delivery and Instruction, Online Course Design and Preparation, Online Program Evaluation and Assessment, Online Program Strategy, Personal and Professional Development for Academic Leaders, Specific Student Populations, Student Engagement, Supporting Online Faculty, Teaching Strategies

$

999.00