Using Brief Interventions to Maximize Student Learning
Learn five fundamental principles of human learning and how to incorporate these principles into your current courses to immediately increase learning.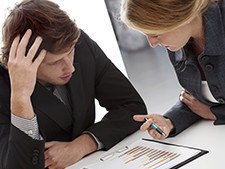 The shift toward student-centered learning has transformed our classrooms, and it's no longer enough to be a subject-matter expert.
Instructors have to not only know the material their students need to learn, but they also have to have a reasonably good grasp of how students learn it.
The task is to master both, because that's when the real learning magic happens.
That's the idea behind cognitive theory and its application in higher education.
And while it took you years of study to earn credentials in your discipline, you can learn how to apply relevant aspects of cognitive theory to your courses in far less time.
In fact, all it takes is Using Brief Interventions to Maximize Student Learning.
Benefits
It's a common theme in many Magna seminars, but it bears repeating: Small changes can make a big impact. You don't have to redesign a course from scratch to reap the benefits of brief cognitive interventions.
Finish this seminar with ideas and strategies that you can implement right away in the courses you're teaching right now.
These smart, research-based interventions drawn from the established cognitive principles of predicting, self-explaining, retrieving, generating, and connecting will enable any instructor in any type of classroom to maximize student learning.
Academic research is showing that you can create a more successful learning environment when you understand and apply the basics of cognitive theory.
Much of the related scholarship has emerged in the past six years, and the applications to college and university teaching are just now making it into the classroom.
Fortunately, you don't have to wait for these powerful new ideas to make it to the mainstream.
Learning Goals
You can learn the relevant principles of cognitive theory and learn how to apply them to your courses right away.
In this seminar you will learn to:
Prompt students to predict outcomes, solutions, or ideas before those concepts are fully explained or presented through course materials
Have students self-explain (e.g., what your high school geometry teacher meant when she asked you to show your work) when they are solving problems, writing, making interpretations, or doing any other cognitive work in a discipline
Incorporate into class periods frequent opportunities for students to retrieve course content from memory
Ask students to generate their own meanings of course material
Help students create connections between course materials and the world beyond the classroom
Audience
Many instructors already employ teaching strategies based on the cognitive principles explored in this seminar, but they may not realize why those tactics are so effective.
This seminar will provide a framework for our understanding of the power of these activities.
Using Brief Interventions to Maximize Student Learning would be particularly useful for the following:
Faculty at all levels in all disciplines
Adjunct faculty
Graduate teaching assistants
Department chairs
Instructional designers
Center for teaching and learning staff
Purchase
Order today! In this Magna Online Seminar learn what works, why it works, and how to work it into your courses—all within one seminar.
Product Code: PC14LA
Campus Access License
With the purchase of the optional Campus Access License, registrants are granted a license to download the program contents to a password-protected network, server, or website for additional staff use. You will receive information on downloading the contents of the program within 3-5 business days after payment has been received by Magna.
Group Subscription Options
Campus Safety, Compliance, Department and Program Evaluation and Assessment, Digital Library, Equity, Inclusion, and Diversity, Faculty Support, Group Subscription, Institutional Assessment, Institutional Culture, Leadership, Leadership, Online Program Evaluation and Assessment, Online Program Strategy, Personal and Professional Development for Academic Leaders, Regulatory Compliance, Risk Management, Strategic Planning, Student Support, Supporting Online Faculty, Title IX Clery and VAWA

From:

$

1,297.00

for 1 year

Assessment, Grading, and Feedback, Blended and Flipped Learning, Course Delivery and Instruction, Course Design and Preparation, Department and Program Evaluation and Assessment, Digital Library, Faculty, Faculty Support, Group Subscription, Institutional Culture, Leadership, Legal Concerns, Monday Morning Mentor, Online Assessment, Grading, and Feedback, Online Course Delivery and Instruction, Online Course Design and Preparation, Online Program Evaluation and Assessment, Online Program Strategy, Personal and Professional Development for Academic Leaders, Specific Student Populations, Student Engagement, Supporting Online Faculty, Teaching Strategies

$

999.00