Improving Student Enrollment, Engagement, and Retention with Digital Credentials: Implementing an Impactful Program
Programming with digital badging can be a competitive advantage that improves enrollment, engagement, and retention. This Magna Online Seminar explores these practical applications and provides expert advice on bringing this strategy to your campus.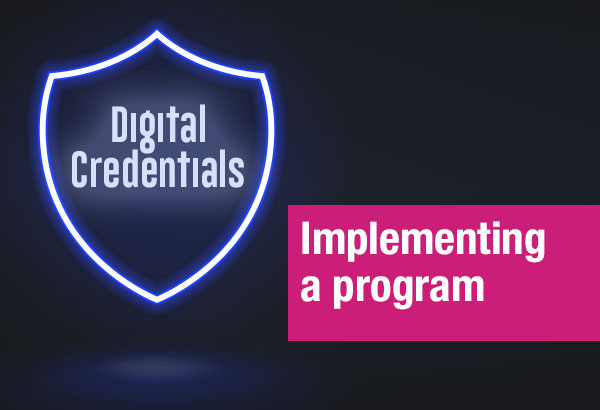 There are varied applications for digital credentials on the college campus, ranging from:
credentialing education,
connecting programs with industry requirements,
providing a reliable vehicle for students to present authentic credentials to employers,
and potentially capturing new enrollments and revenue.
Digital credentials also serve an internal purpose:
faculty development centers can motivate and reward faculty and staff,
students can gain recognition for athletic or academic achievements on campus,
and campuses can receive positive impressions when credentials are shared via social media.
This Magna Online Seminar explores the practical applications of a badging program and provides expert advice on bringing one to your campus. Gain necessary insights from an expert who presents and consults worldwide about best practices in digital badging.
Why you don't want to miss this!
Digital credentials can lead to increased enrollment, engagement, retention, and new pathways to programming.
Digital credentials contribute to the institution's public image through positive social media exposure.
The presenter is an expert in digital credentials who consults with higher education institutions worldwide.
What are the learning goals?
Upon completion of this seminar, you'll be able to:
Identify areas where digital credentials can help promote, engage, and recruit new enrollment
Consider how to engage local businesses and organizations via digital badges
Define a digital badge structure that meets their own campus programs and initiatives
Who should attend?
Continuing Education Staff/Departments
Deans
Workforce Education/Workforce Development personnel
Faculty
Why This Matters
This Magna Online Seminar is designed to increase understanding of the potential digital credentials have by reviewing practical applications that are actively being used in higher education and best practices for implementing a credential program.
This Magna Online Seminar also provides more detail about practical applications than its counterpart, Improving Student Enrollment, Engagement, and Retention with Digital Credentials: Understanding the Basics, and focuses on the "why" and "how" of digital badging. We'll cover:
Establishing a digital badge program to:

verify employment skills that lead to certifications and eventually degrees
build pathways into programming from business and industry (Program Planning and Administration)
engage faculty and staff with digital awards that recognize performance (faculty development)
acknowledge campus and academic achievements (students)

Strategies to increase and earn revenue through digital credentials
What's included?
Your seminar registration includes the following:
One connection per registration for on-demand access
The program can be viewed as often as needed while on-demand access is available
Written transcript
100% satisfaction guarantee
Product Code: OC23CD
Campus Access License
With the purchase of the optional Campus Access License, registrants are granted a license to download the program contents to a password-protected network, server, or website for additional staff use. You will receive information on downloading the contents of the program within 3-5 business days after payment has been received by Magna.
Group Subscription Options
Campus Safety, Compliance, Department and Program Evaluation and Assessment, Digital Library, Equity, Inclusion, and Diversity, Faculty Support, Group Subscription, Institutional Assessment, Institutional Culture, Leadership, Leadership, Online Program Evaluation and Assessment, Online Program Strategy, Personal and Professional Development for Academic Leaders, Regulatory Compliance, Risk Management, Strategic Planning, Student Support, Supporting Online Faculty, Title IX Clery and VAWA

From:

$

1,297.00

for 1 year

Assessment, Grading, and Feedback, Blended and Flipped Learning, Course Delivery and Instruction, Course Design and Preparation, Department and Program Evaluation and Assessment, Digital Library, Faculty, Faculty Support, Group Subscription, Institutional Culture, Leadership, Legal Concerns, Monday Morning Mentor, Online Assessment, Grading, and Feedback, Online Course Delivery and Instruction, Online Course Design and Preparation, Online Program Evaluation and Assessment, Online Program Strategy, Personal and Professional Development for Academic Leaders, Specific Student Populations, Student Engagement, Supporting Online Faculty, Teaching Strategies

$

999.00