How Can I Incorporate Best Practices into My Online Teaching?
For faculty teaching online who are in need of advice on effective online teaching, this 20-Minute Mentor provides best practices from an experienced online educator for creating and delivering your course.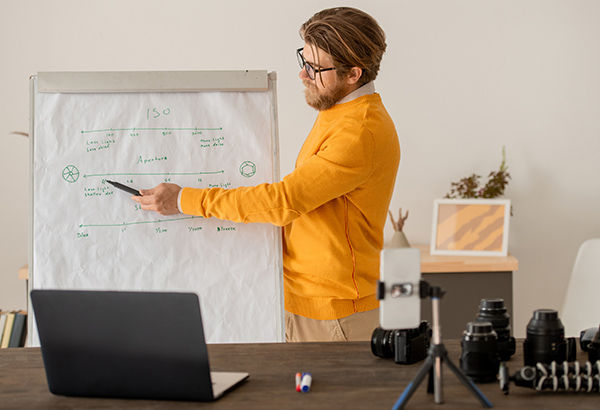 How Can I Incorporate Best Practices into My Online Teaching?
Developing and teaching online courses can be challenging. However, there are a variety of best practices instructors can use when both developing their online courses as well as teaching them that will enhance success and lead to a better course experience for all.
This 20-Minute Mentor explores seven areas of online teaching and offers best practices for success. You'll get the expert guidance you need to take immediate action to improve your online teaching.
Learning Goals
After viewing this Magna 20-Minute Mentor, participants will be able to:
Describe best practices related to designing and delivering course content
Explain how consistency in course design and instruction can enhance student success
Identify strategies to use more frequent and varied assessments
Recognize the benefits of engaging directly with students and building community
Pinpoint active learning techniques that can be used in online courses
Understand how to more effectively use discussions in online courses
Topics Covered
Content delivery
Consistency
Assessments
Community
Authenticity
Active learning
Discussions
Audience
This program will benefit:
Instructors
Faculty
Teachers
Program Directors
Instructional Designers
Product Code: QM21FA
Campus Access License
With the purchase of the optional Campus Access License, registrants are granted a license to download the program contents to a password-protected network, server, or website for additional staff use. You will receive information on downloading the contents of the program within 3-5 business days after payment has been received by Magna.
Group Subscription Options
Assessment, Grading, and Feedback, Blended and Flipped Learning, Course Delivery and Instruction, Course Design and Preparation, Department and Program Evaluation and Assessment, Digital Library, Faculty, Faculty Support, Group Subscription, Institutional Culture, Leadership, Legal Concerns, Monday Morning Mentor, Online Assessment, Grading, and Feedback, Online Course Delivery and Instruction, Online Course Design and Preparation, Online Program Evaluation and Assessment, Online Program Strategy, Personal and Professional Development for Academic Leaders, Specific Student Populations, Student Engagement, Supporting Online Faculty, Teaching Strategies

$

999.00

Campus Safety, Compliance, Department and Program Evaluation and Assessment, Digital Library, Equity, Inclusion, and Diversity, Faculty Support, Group Subscription, Institutional Assessment, Institutional Culture, Leadership, Leadership, Online Program Evaluation and Assessment, Online Program Strategy, Personal and Professional Development for Academic Leaders, Regulatory Compliance, Risk Management, Strategic Planning, Student Support, Supporting Online Faculty, Title IX Clery and VAWA

From:

$

1,297.00

for 1 year