How Can I Lay the Groundwork for Positive Technology Changes?
Delve into how to think strategically about introducing a new technology to your campus and explore proven techniques for dealing with the technophobes and change-averse employees in your campus community.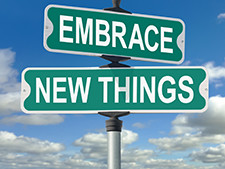 How Can I Lay the Groundwork for Positive Technology Changes?
Change may be inevitable, but that doesn't mean it happens easily.
The biggest challenges associated with introducing a new technology sometimes come from the people who are going to use it. Along with a strategic framework for approaching change, this presentation will show you proven and practical tips for gaining that all-important support from your colleagues. You'll even learn effective techniques for handling the technophobes and Just say no crowd.
Benefits
This program will help you develop the leadership skills you need to be an effective champion for change. This session addresses nuts-and-bolts issues. It will prepare you to:
Design a strategic approach to introduce your campus community to a new technology
Encourage your campus to be more technologically adventurous
Enhance your professional development as a change agent
Learning Goals
After participating in How Can I Lay the Groundwork for Positive Technology Change?, you'll be able to:
Identify the three essential tasks of a campus technology advocate
Evaluate the potential fit between a new technology and your campus community
Use a model to make strategic decisions about new technologies and implement them successfully
Implementing new technology successfully means coordinating a host of moving parts, and many of them dont involve the new hardware or software itself. The presenter will walk you through a four-step process developed expressly for adopting new technologies. You'll learn the following:
The strategic questions you need to ask before moving forward with a new technology
The unlikely personality type that can make your project a success
The key to setting effective goals for implementing change
What to celebrate and when
---
"I felt this was helpful for me as a new instructor and how I can help my students succeed in a challenging scientific based, dental radiography course."
---
Topics Covered
The most effective campus technology champions arent always those who know the most about the technology. They're the ones who know the most about working with people.
How Can I Lay the Groundwork for Positive Technology Change? will show you how to develop the interpersonal skills you need, plus give you a framework to organize a successful campaign.
And because this is a realistic presentation designed for professionals working in the real world, you'll also learn how to make the most of those times when things don't go quite right. The session will cover the following:
The decision-making process involved in selecting promising new technologies
The many ways people respond to change
Techniques for connecting with different constituencies
The importance of setting goals for new technologies
Audience
This presentation was designed for experienced campus leaders who want to develop their skills to implement change. It will be helpful for faculty and department chairs in all disciplines as well as deans and faculty developers.
In the 21st century, it's a question of when, not if, your campus will need to bring a new technology on board. Your schools reputation depends on it. Make an investment in your campus future and purchase How Can I Lay the Groundwork for Positive Technology Change? today, so youll be ready to implement the technologies of tomorrow!
Product Code: OM16HA
Campus Access License
With the purchase of the optional Campus Access License, registrants are granted a license to download the program contents to a password-protected network, server, or website for additional staff use. You will receive information on downloading the contents of the program within 3-5 business days after payment has been received by Magna.
Group Subscription Options
Assessment, Grading, and Feedback, Blended and Flipped Learning, Course Delivery and Instruction, Course Design and Preparation, Department and Program Evaluation and Assessment, Digital Library, Faculty, Faculty Support, Group Subscription, Institutional Culture, Leadership, Legal Concerns, Monday Morning Mentor, Online Assessment, Grading, and Feedback, Online Course Delivery and Instruction, Online Course Design and Preparation, Online Program Evaluation and Assessment, Online Program Strategy, Personal and Professional Development for Academic Leaders, Specific Student Populations, Student Engagement, Supporting Online Faculty, Teaching Strategies

$

999.00

Campus Safety, Compliance, Department and Program Evaluation and Assessment, Digital Library, Equity, Inclusion, and Diversity, Faculty Support, Group Subscription, Institutional Assessment, Institutional Culture, Leadership, Leadership, Online Program Evaluation and Assessment, Online Program Strategy, Personal and Professional Development for Academic Leaders, Regulatory Compliance, Risk Management, Strategic Planning, Student Support, Supporting Online Faculty, Title IX Clery and VAWA

From:

$

1,297.00

for 1 year