How Can I Measure My Faculty Development Center's Impact?
In an era of ever-tightening budget restrictions placed on universities and departments, no program or academic center is safe from cutbacks. This program prepares you to measure and articulate the value of your center in ways that matter to people who think about line items and dollar signs.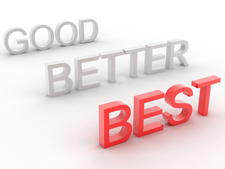 How Can I Measure My Faculty Development Center's Impact?
Faculty development centers are generally not cash cows.
Our work does not always slide easily into line items or factor clearly into financial decisions.
Just because faculty development centers do not typically operate under financial models that make it easy to demonstrate their worth does not mean you cannot prove that your center is essential to institutional success.
In fact, you can communicate the value of your work in ways that matter to the people behind the budgets.
If you're ready to show how instrumental and invaluable your centers work is, you'll want to watch How Can I Measure My Faculty Development Centers Impact?
Learning Goals
The presenter understands that your priority is supporting and developing your faculty with accessible and desirable programming that leads to better teaching and improved student outcomes.
He also recognizes that increasing calls for accountability demand that you be able to demonstrate your value in fiscal terms.
When you are finished with this program, you will know how to:
Focus on outcomes (measures of impact) rather than outputs (measures of attendance or participation)
Use a variety of measures to collect data related to your outcomes
Use data that's already being collected, either by your center or by the institution, rather than reinventing the wheel
Critically evaluate the strengths and weaknesses of different types of data
Use meaningful data to directly measure the impact of your center
Communicate your centers value, effectiveness and return on investment to pertinent campus constituents in relevant and appropriate language
Topics Covered
Not every department or center on campus generates revenue, but every program needs to demonstrate its value.
You will learn how to determine which outcomes are relevant, how to measure them, and how to communicate your results in ways that prove your value—all in just 20 minutes.
How Can I Measure My Faculty Development Centers Impact? presents real strategies—not just theoretical ideas—that have worked at other institutions and that can work for you.
The program mentor incorporates numerous specific examples from his centers annual report and strategic planning guide.
Purchase
In just 20 minutes the presenter describes how to evaluate the impact of your faculty development center with simple and accessible data-driven tools and then use those results to communicate your centers value to relevant campus constituents. Order today!
Product Code: PM14OA
Campus Access License
With the purchase of the optional Campus Access License, registrants are granted a license to download the program contents to a password-protected network, server, or website for additional staff use. You will receive information on downloading the contents of the program within 3-5 business days after payment has been received by Magna.
Group Subscription Options
Assessment, Grading, and Feedback, Blended and Flipped Learning, Course Delivery and Instruction, Course Design and Preparation, Department and Program Evaluation and Assessment, Digital Library, Faculty, Faculty Support, Group Subscription, Institutional Culture, Leadership, Legal Concerns, Monday Morning Mentor, Online Assessment, Grading, and Feedback, Online Course Delivery and Instruction, Online Course Design and Preparation, Online Program Evaluation and Assessment, Online Program Strategy, Personal and Professional Development for Academic Leaders, Specific Student Populations, Student Engagement, Supporting Online Faculty, Teaching Strategies

$

999.00

Campus Safety, Compliance, Department and Program Evaluation and Assessment, Digital Library, Equity, Inclusion, and Diversity, Faculty Support, Group Subscription, Institutional Assessment, Institutional Culture, Leadership, Leadership, Online Program Evaluation and Assessment, Online Program Strategy, Personal and Professional Development for Academic Leaders, Regulatory Compliance, Risk Management, Strategic Planning, Student Support, Supporting Online Faculty, Title IX Clery and VAWA

From:

$

1,297.00

for 1 year