The Flipped Approach to Online Teaching and Learning
Learn how to flip your online courses by analyzing models for the flipped class and exploring how to expand and adapt these definitions to include online learning environments.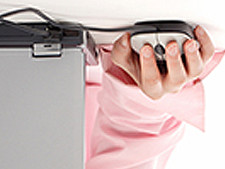 Can you flip an online class? Yes, you can!
Flipping a classroom is a pedagogical approach that enables instructors to create student-centered learning environments by changing when and how certain activities happen.
However, most of the conversations have only focused on the face-to-face classroom experience where students participate in activities during class time and watch videos outside of class time.
But what if you teach in an online environment without traditional class time? Can you still integrate flipped strategies?
In The Flipped Approach to Online Teaching and Learning analyze current definitions and models for the flipped class and explore how to expand and adapt these definitions to include online learning environments.
Ultimately, flipped classrooms, active learning, and inverted course design models all have students engaging in activities, applying concepts, and focusing on higher-level learning outcomes during class time. The lower-level activities (according to Bloom's Taxonomy) happen before class. This is true whether the course is entirely face-to-face, entirely online, or a blend of the two.
However, flipping will look a bit different in blended and online learning environments, particularly those that are asynchronous.
While technology can certainly help instructors create student-centered learning environments in their online and blended classrooms, there is more to flipping than recording lectures and embracing new software. The entire planning process for flipping online instruction is a bit different, but it doesn't have to be daunting.
Benefits
You can experience a flipped lesson for yourself and learn how to immediately apply successful flipping concepts and strategies to the courses you're teaching right now in The Flipped Approach to Online Teaching and Learning.
During the seminar, you wont just learn what successful flipping looks like; you'll experience it yourself because the seminar itself contains flipped components. That kind of firsthand experience that puts you in your students shoes is both rare and invaluable.
Learning Goals
After watching The Flipped Approach to Online Teaching and Learning, you will:
Have an expanded definition of what it means to flip a learning environment
Be able to analyze a lesson plan for an online course in an effort to identify opportunities to flip lessons
Know how to develop one flipped strategy for an online or blended lesson
This seminar delivers the best ideas and strategies from professionals at the forefront of student-centered learning.
Topics Covered
As you experience this seminar, learn how to:
Use flipped language when planning or discussing the online class
Expand the definition of a flipped classroom beyond the video-then-class model in an effort to make flipping a framework of support for you in your efforts to create engaging learning environments through inverted design
Look for flippable moments in online learning environments
Plan a flipped lesson for an online unit or module
Use flipped strategies in the introduction to an online course
Prepare students for the online flipped experience
Audience
The Flipped Approach to Online Teaching and Learning is valuable for any instructor who wants to adopt more deliberate student-centered learning approaches.
Whether you're new to the flipped classroom or have been experimenting with it for a while, this seminar offers insights gleaned from current research and best practices as well as strategies for applying those concepts to the courses you teach.
The following people would find the seminar to be particularly useful:
Assistant professors
Associate professors
Graduate teaching assistants
Postdoctoral scholars
Teaching center directors
Faculty development consultants
Adjunct faculty
Lecturers
Instructors
Instructional technology consultants
Instructional designers
Distance education instructors
Purchase
Order today. You will finish the seminar with some accessible and actionable tactics for flipping lessons immediately-and without drastically revising your current course design.
Product Code: PR14DA
Campus Access License
With the purchase of the optional Campus Access License, registrants are granted a license to download the program contents to a password-protected network, server, or website for additional staff use. You will receive information on downloading the contents of the program within 3-5 business days after payment has been received by Magna.
Group Subscription Options
Campus Safety, Compliance, Department and Program Evaluation and Assessment, Digital Library, Equity, Inclusion, and Diversity, Faculty Support, Group Subscription, Institutional Assessment, Institutional Culture, Leadership, Leadership, Online Program Evaluation and Assessment, Online Program Strategy, Personal and Professional Development for Academic Leaders, Regulatory Compliance, Risk Management, Strategic Planning, Student Support, Supporting Online Faculty, Title IX Clery and VAWA

From:

$

1,297.00

for 1 year

Assessment, Grading, and Feedback, Blended and Flipped Learning, Course Delivery and Instruction, Course Design and Preparation, Department and Program Evaluation and Assessment, Digital Library, Faculty, Faculty Support, Group Subscription, Institutional Culture, Leadership, Legal Concerns, Monday Morning Mentor, Online Assessment, Grading, and Feedback, Online Course Delivery and Instruction, Online Course Design and Preparation, Online Program Evaluation and Assessment, Online Program Strategy, Personal and Professional Development for Academic Leaders, Specific Student Populations, Student Engagement, Supporting Online Faculty, Teaching Strategies

$

999.00