In-person Teaching Professor Conference Pricing
Price per
person

1 person

2 to 4
people
5 or more
people
On or before
5/21/2021

$749

$729

$709

Regular rate

$789

$789

$789

Optional programs
1/2 day

$245
In-person conference registration includes access to Virtual Conference and on-demand recordings!
Teaching Professor Virtual Conference Pricing
Price
per person

1 person

2 to 9
people
Faculty Cohort
of 10 or more
On or before
5/14/2021

$499

$325

$299

Regular rate

$599

$425

$399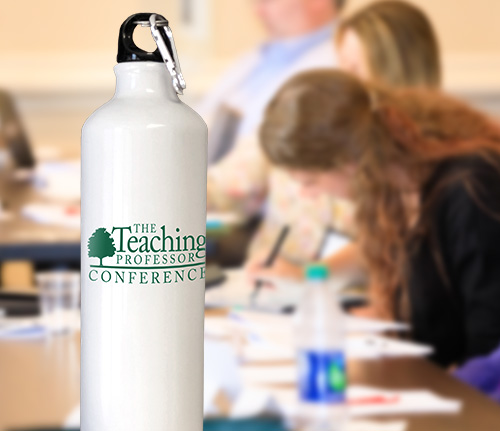 Faculty Cohort Special Offer!
Do you have a group of 10 or more faculty that wants to experience the Teaching Professor Conference in person or virtually? Purchase 10 or more seats and each of member of your group will also receive:
A one-year Teaching Professor Membership subscription (a $149 value)
One copy of the latest faculty book that will be released at the June conference (a $34 value)
Teaching Professor Conference sports bottle
Offer details:
The Faculty Cohort offer is available for 10 or more registrations to either the in person or virtual Teaching Professor Conference received by May 14, 2021. Items for Faculty Cohort registration will be shipped together to a single address and will be shipped to paid registrations on May 21. For current
Teaching Professor
subscribers, an additional year will be added to your current subscription at time of purchase.
In-Person or Virtual—What's the Difference?
2021 Teaching Professor Annual Conference
In-person conference

Multiple casual opportunities to meet and network with attendees and presenters
Interactive sessions

6 optional Preconference Workshops
3 Plenary Presentations
Exclusive content: 100+ concurrent sessions in both 60- and 20-minute formats

6 hours of content on site

25 posters
Exhibitors
Conference App
Virtual Conference included
Why attend the in-person conference?
You value the face-to-face experience
You want the opportunity to casually meet others and network
You want an "immersive" experience without distractions from your day-to-day job/life
You can focus on your top 6 choices for interaction and participation, and watch other content on-demand over a 4-month period
2021 Teaching Professor Virtual Conference
On-Demand conference

One group networking/roundtable event in mid June

3 Plenary Presentations
44 concurrent sessions in both 60- and 20-minute formats

View any program until 9-30-21
All tracks and formats represented

10 Posters
Why attend the virtual conference?
You have travel restrictions or a conflict with the date
You want the flexibility of on-demand viewing over a 4-month period
Multiple social or networking opportunities are a low priority
***Please Note: To qualify for multiple registration discounts, all registrations from an organization must be submitted together. A registration form is required from each individual attending. If you wish to make a reservation now, but don't know which individuals will be attending, write "to be named" in the name fields of the form and then notify us once your attendee list is finalized.
Have Questions? Call Magna Customer Service at 800-433-0499 (8:00 am– 4:30 pm Central)
International Attendees: Letter of Invitation
If you do not live in the United States and wish to attend one of our conferences, you may need to secure a visitor visa. Advance travel planning and early visa application are important, since applications are subject to a greater degree of scrutiny than in the past. If you need a letter of invitation, you can download it here. Please Note: we do not provide personalized letters of invitation. Attendees who are citizens of Visa Waiver Program participating countries generally do not need a letter of invitation. Please visit the U.S. Department of State's website for complete information on how to apply for a visitor visa.
Cancellation Policy:
Cancellations received after May 7, 2021 are subject to a $150 service charge per person. Cancellations made after the final cut-off date (May 21, 2021) will result in full registration fee. Individuals who sign up for the conference, but do not attend will be charged the full registration price. Substitutions or name changes can be made at any time. All cancellations must be received in writing. Cancellation requests can be sent by email to support@magnapubs.com or by fax to 608-246-3597. Please include "Cancellation of 2021 Teaching Professor Conference Registration" in the subject line.