Leading Online Programs is a comprehensive guide for best practices in establishing an online program, leading and developing online faculty, evaluating online programs, planning for future growth, and more.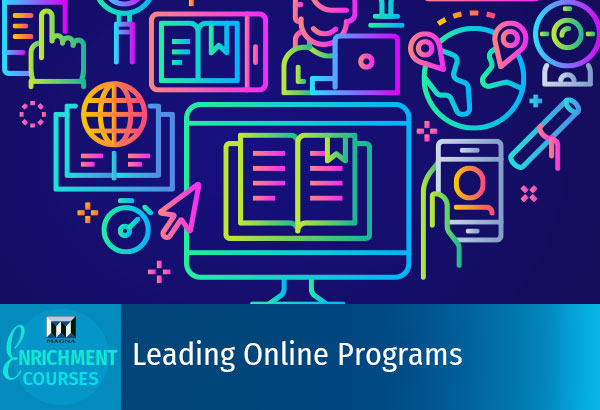 Group Enrollment Pricing

1 person

$199

2–9 people

$139 per person

10-49 people

$109 per person

50–99 people

$89 per person
Group Enrollment discounts are applied in the cart.
---
October/November Enrichment Session
October 2, 2023 – November 10, 2023
---
In your role as an academic leader, leading an online program is a big undertaking. It's so much more than teacher performance and reviews. Your work in leading an online program effectively can directly impact student success, improve completion and retention rates, and the development of your faculty.
Leading Online Programs is your one-stop shop for best practices for establishing online programs from experienced leaders who have been there before. Receive proven strategies you can implement immediately on the most important aspects of leading an online program:
Establishing an online program
Leading and developing online faculty
Evaluating online programs
Planning for future growth
This 5-hour Magna Online Course examines the challenges unique to leading online programs and provides solutions to support program planning, improving retention and graduation rates, and growing online courses and programs. Additionally, Leading Online Programs identifies how leaders can work with faculty teaching online—from hiring and onboarding through evaluating and addressing performance concerns. Presenters are from a wide range of institutions and have years of online program leadership experience. Each unit features a variety of short programs that cover crucial questions and topics related to student engagement.
Better serve students and help them succeed by effectively leading higher-education online learning courses and programs! This collection will spark innovative ideas for you to implement right away in your own position. A wealth of practical strategies and advice from experienced leaders is waiting for you!
Learning Goals
At the conclusion of this course, you'll be able to:
Establish the framework needed to effect meaningful change within a program or organization
Create an online learning environment that encourages higher completion rates at the program level
Articulate the differences between the skills and competencies needed for three distinct online faculty roles
See how using adjunct faculty can deal with faculty capacity woes but also maintain quality online programming
Execute key components of the online instructor onboarding process
Use common methods for helping faculty achieve online teaching competencies
Know where to look in an online course to find evidence of good teaching
Implement a progressive performance management process with online faculty who have serious performance concerns
Recognize quality reviews can help enhance the effectiveness of your institution's online offerings
Define and use analytics to improve online course outcomes
List a variety of strategies that can help determine which online courses and programs should be targeted for expansion
How It Works:
Select your desired session date.
Prior to the start of the course, participants will receive an email with information on accessing the online course.
Access to the course runs according to your selected session date.
Participants can work through the course at their own pace. Participants can also review information in a previous unit as well as read supplemental materials and watch the accompanying videos as many times as they like within their selected session date.
Upon completion of the course, participants will take an assessment to gauge learning.
At the end of the course, participants will receive a Certificate of Completion.
What's Included:
Video programs
A final assessment
Transcripts of all video programs
Program slides
Supplemental readings and activities
Certificate of Completion for the course
Group Enrollment:
Discount pricing is available for multiple seats purchased at the same time.
For 10 or more seats, please contact Magna Sales at sales@magnapubs.com or call 800-433-0499 ext. 183 to receive a customized quote.
October/November Enrichment Session Product Code: OO23HD
Meet Your Presenters
Miebeth Bustillo-Booth
Program Coordinator and Associate Professor of Applied Business, Pierce College
Bethanie Hansen, DMA
Faculty Director, American Public University Systems
Dan Keast, PhD
Rochester Professor of Music, The University of Texas Permian Basin
James Moore
Director of Online Learning, DePaul University
Ann Taylor
Assistant Dean for Distance Learning, The Pennsylvania State University
Brian Udermann, PhD
Professor, University of Wisconsin-La Crosse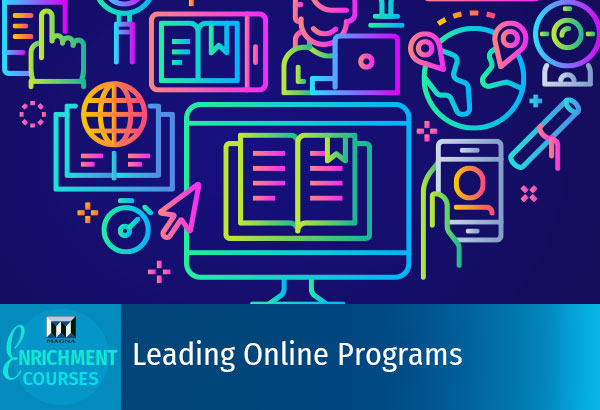 Group Enrollment Pricing

1 person

$199

2-9 people

$139 per person

10-49 people

$109 per person

50-99 people

$89 per person
Group Enrollment discounts are applied in the cart.
If you are not completely satisfied with your purchase, you may cancel the order within 30 days of purchase and receive a full refund.
Group Subscription Options
Campus Safety, Compliance, Department and Program Evaluation and Assessment, Digital Library, Equity, Inclusion, and Diversity, Faculty Support, Group Subscription, Institutional Assessment, Institutional Culture, Leadership, Leadership, Online Program Evaluation and Assessment, Online Program Strategy, Personal and Professional Development for Academic Leaders, Regulatory Compliance, Risk Management, Strategic Planning, Student Support, Supporting Online Faculty, Title IX Clery and VAWA

From:

$

1,297.00

for 1 year

Assessment, Grading, and Feedback, Blended and Flipped Learning, Course Delivery and Instruction, Course Design and Preparation, Department and Program Evaluation and Assessment, Digital Library, Faculty, Faculty Support, Group Subscription, Institutional Culture, Leadership, Legal Concerns, Monday Morning Mentor, Online Assessment, Grading, and Feedback, Online Course Delivery and Instruction, Online Course Design and Preparation, Online Program Evaluation and Assessment, Online Program Strategy, Personal and Professional Development for Academic Leaders, Specific Student Populations, Student Engagement, Supporting Online Faculty, Teaching Strategies

$

999.00