Nine Essential Traits of the Effective Professor
We explain not only what today's students believe are the most essential qualities for effective teaching, but also prepare you to make simple and sometimes subtle changes to incorporate or develop practices and traits that resonate with students and yield improved academic outcomes.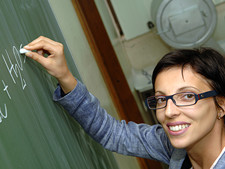 Learn the Most Essential Qualities for Effective Teaching
Students today have a lot of power—and they know it.
Good evaluations can pave the path to tenure, while repeated bad evaluations can derail once bright and promising careers.
Fortunately, as it turns out, what students want from instructors isn't unreasonable. Once you know what your students are looking for from you, you can modify your approach so that they get it. And it doesn't come at the expense of learning or academic rigor. In fact, satisfied and engaged students will learn more, achieve greater academic outcomes, and deliver better instructor and course evaluations than will their dissatisfied peers.
What are you waiting for?
Well, in order to give students what they want, you have to know what that is. So find out with a copy of Nine Essential Traits of the Effective Professor. This 60-minute seminar explains not only what today's students believe are the most essential qualities for effective teaching, but it also prepares you to make simple and sometimes subtle changes to incorporate or develop practices and traits that resonate with students and yield improved academic outcomes.
Benefits
Presenter Ellen Smyth is an award-winning professor of mathematics and statistics at Austin Peay State University. In recognition of her willingness to adopt and utilize engaging new technologies and approaches, she was named the 2010 Innovative Professor by the Austin Peay Center for Extended and Distance Education. Smyth enjoys using audio, video, and other media to make content more accessible to and manageable for students, and she eagerly embraces training opportunities to learn new skills and approaches to take into the classroom. She developed this seminar based on results from a Memorial University of Newfoundland student survey, and Smyth uses her own insights and successes to explain and apply the surveys findings.
Learning Goals
After watching the seminar, you will be able to:
Name the nine effective teaching characteristics, according to face-to-face students, and understand the importance of each
Explore practical ideas for demonstrating each characteristic in the classroom
Foster all nine effective teaching characteristics over the upcoming term
Share your own ideas with colleagues for nurturing effective teaching
Smyth, an expert in student engagement, employs polling questions, video clips, images, lightning activities, and other tools to captivate her audience and keep the seminar moving briskly.
In an interview with The Teaching Professor, Professor Smyth shared her thoughts on the importance of this topic:
TP: Why is it important to discuss traits students believe are essential to effective teaching? Wouldn't it be better to ask faculty or even experts in learning which traits are essential?
Smyth: All three-faculty, students, and experts-have ideas worth exploring. Experts in learning may have the best ideas, using research-based traits proven critical to the learning process. As faculty, we should be interested in such research from experts and from other faculty, but to work with students we should consider what students expect from us, especially as it relates to teaching. What do students need? How do they perceive effective teaching? When a professor exhibits traits that students consider essential, students will naturally be more open to learning from that professor.
TP: Do students and faculty have different ideas about which traits are most important?
Smyth: We do have different ideas, but there is some overlap as well. Professors and students approach learning from two different angles. Faculty have more credentials and experience in teaching, but we forget too easily what it was like to sit in the students chair and be the learner. Similarly, students know exactly what it is to be the learner but aren't always aware of the subtle ways in which we learn.
My mathematics colleagues were kind enough to contribute their most essential traits to effective teaching: listening, compassion, patience, adaptability, a sense of humor, confidence, openness to self-improvement in teaching, and knowing how to ask the right question at the right time. The first few traits align closely with those named by students, and the last reminds me of a quote from one of my favorite authors, Patrick Rothfuss. It's the questions we can't answer that teach us the most. They teach us how to think. If you give a man an answer, all he gains is a little fact. But give him a question and he'll look for his own answers.
TP: How can these traits improve learning?
Smyth: The traits in this seminar were identified by students as most essential to effective teaching. All nine can work together to improve learning, but simply knowing this list will do little. To increase learning, we must put these characteristics into action in the classroom. Throughout this seminar, we will ask faculty to commit to and record ways they will foster each trait in an upcoming term.
Purchase
Order today and become more satisfied and engaged as students learn more.
Product Code: PC12PA[/vc_column_text][/vc_column][/vc_row]
Campus Access License
With the purchase of the optional Campus Access License, registrants are granted a license to download the program contents to a password-protected network, server, or website for additional staff use. You will receive information on downloading the contents of the program within 3-5 business days after payment has been received by Magna.
Group Subscription Options
Campus Safety, Compliance, Department and Program Evaluation and Assessment, Digital Library, Equity, Inclusion, and Diversity, Faculty Support, Group Subscription, Institutional Assessment, Institutional Culture, Leadership, Leadership, Online Program Evaluation and Assessment, Online Program Strategy, Personal and Professional Development for Academic Leaders, Regulatory Compliance, Risk Management, Strategic Planning, Student Support, Supporting Online Faculty, Title IX Clery and VAWA

From:

$

1,297.00

for 1 year

Assessment, Grading, and Feedback, Blended and Flipped Learning, Course Delivery and Instruction, Course Design and Preparation, Department and Program Evaluation and Assessment, Digital Library, Faculty, Faculty Support, Group Subscription, Institutional Culture, Leadership, Legal Concerns, Monday Morning Mentor, Online Assessment, Grading, and Feedback, Online Course Delivery and Instruction, Online Course Design and Preparation, Online Program Evaluation and Assessment, Online Program Strategy, Personal and Professional Development for Academic Leaders, Specific Student Populations, Student Engagement, Supporting Online Faculty, Teaching Strategies

$

999.00